2018 Home Run Champion Odds
By Jonathan K.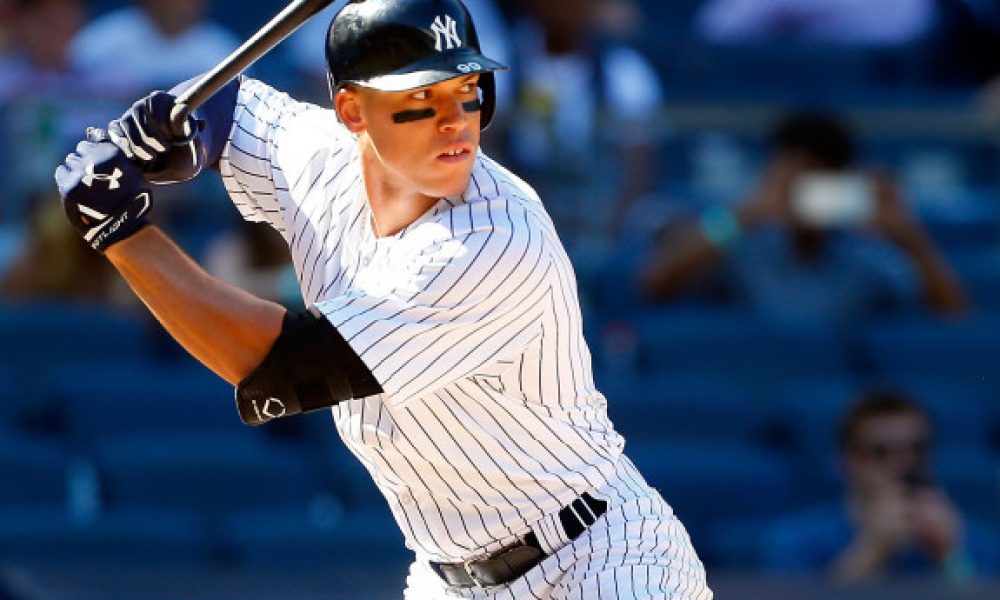 With the new year comes the countdown to the start of the MLB season and all sorts of MLB odds are begging to go up, including the 2018 Home Run champion odds.
Giancarlo Stanton in New York was one of the biggest moves of the offseason, and it is no surprise to see him to the odds with his teammate, Aaron Judge with the second best odds. Last season, they were the only two players to post home run numbers above 50. Stanton won the home run championship last season with 59, while Judge knocked 52 out of the park during his rookie season.
Last season's favorites, Kris Bryant sits at 25/1 this season after hitting 29 homers last season. Bryce Harper sits with the third best odds after hitting 42 homers last season.
You can see the full 2018 Home Run Champion Odds below.
2018 Home Run Champion Odds
Giancarlo Stanton 5/1
Aaron Judge 8/1
Bryce Harper 15/1
Mike Trout 18/1
Manny Machado 18/1
J.D. Martinez 20/1
Joey Gallo 25/1
Nolan Arenado 25/1
Cody Bellinger 25/1
Kris Bryant 25/1
Paul Goldschmidt 25/1
Freddie Freeman 25/1
Josh Donaldson 30/1
Nelson Cruz 30/1
Khris Davis 30/1
Chris Davis 30/1
Miguel Sano 30/1
Anthony Rizzo 40/1
Edwin Encarnacion 40/1
Carlos Correa 40/1
Kyle Schwarber 40/1
Mark Trumbo 40/1
Rhys Hoskins 50/1
George Springer 50/1
Joey Votto 60/1
Logan Morrison 60/1
Rafael Devers 60/1
Yoenis Cespdedes 80/1
Justin Smoak 80/1
Jose Abreu 80/1
Gary Sanchez 80/1
Miguel Cabrera 80/1
Marcell Ozuna 80/1
Eric Thames 80/1
Adam Duvall 80/1
Jose Bautista 100/1
Mookie Betts 100/1
Ryan Braun 100/1
Andrew McCutchen 100/1
Domingo Santana 100/1
Jake Lamb 100/1
Scott Schebler 100/1
Mike Moustakas 100/1
Jonathan Schoop 100/1
Josh Bell 100/1
Justin Bour 100/1
Charlie Blackmon 100/1
Jay Bruce 100/1
Francisco Lindor 100/1
Brian Dozier 100/1
Matt Olson 200/1
Rougned Odor 200/1
Greg Bird 200/1
Wil Myers 200/1
Justin Upton 200/1
Adam Jones 200/1
Michael Conforto 200/1
Brandon Moss 200/1
Lucas Duda 200/1
Ryan Zimmerman 200/1
Kyle Seager 200/1
Trevor Story 200/1
Travis Shaw 200/1
Matt Chapman 200/1
Carlos Santana 200/1
Maikel Franco 200/1
Kendrys Morales 200/1
Paul DeJong 200/1
Corey Dickerson 200/1
Carlos Gonzalez 200/1
Corey Seager 200/1
Robinson Cano 200/1
Nomar Mazara 200/1
Ian Happ 200/1
Steven Souza, Jr. 200/1
Hunter Renfroe 200/1
Matt Davidson 200/1
Eugenio Suarez 200/1
Yasmany Tomas 200/1
Trey Mancini 200/1
Alex Bregman 200/1
Jose Ramirez 200/1
Andrew Benintendi 200/1
Yonder Alonzo 200/1
Jose Altuve 300/1
Eric Hosmer 300/1
Hanley Ramirez 300/1
Evan Longoria 300/1
Adrian Beltre 300/1
Yasiel Puig 300/1
Nick Castellanos 300/1
Javier Baez 300/1
Ian Desmond 300/1
Gregory Polanco 300/1
Justin Turner 300/1
Joc Pederson 300/1
Buster Posey 300/1
Shohei Ohtani 300/1
Evan Gattis 500/1
Anthony Rendon 500/1