Arian Foster: My Best Qualities Are 'Route Running And Catching The Ball'
By Ryan Ward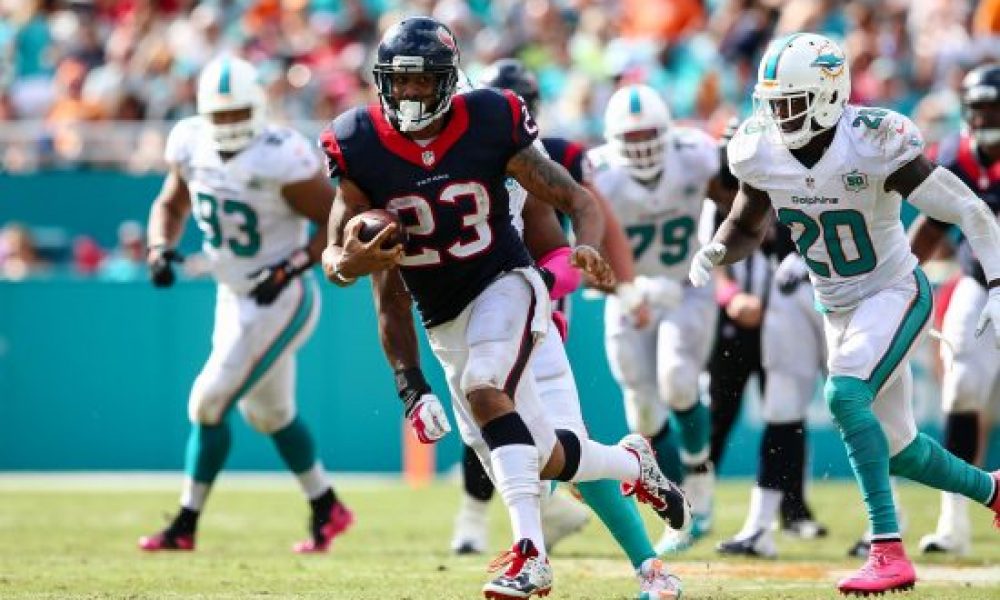 After spending the seven seasons with the Houston Texans, veteran running back Arian Foster has changed teams during the NFL offseason. Foster will now replace Lamar Miller, who recently signed with the Texans, as the feature back for the Miami Dolphins.
With Foster now in Miami, the veteran back talked about what he brings to the table for the Dolphins. Foster still believes he's got some good football left in him, but it seems as though he thinks his best qualities are a receiver out of the backfield, via Kevin Patra of NFL.com:
"I think Adam really knows how to use running backs out of the backfield, which I feel like is my best quality — route running and catching the ball out of the backfield," Foster said, via the Miami Herald. "I think he knows how to steer the ship. I'm just happy to be a part (and) have a seat on the boat now."
At one point in his NFL career, Foster was considered arguably the best all-around back in the game. The Tennessee product was a threat all over the football field making the Texans' offense a force to be reckoned with.
Foster was as good as ballcarrier as he was a threat in the passing game. Matt Schaub, Andre Johnson, and Foster made up a dynamic trio, but Houston could never put it together at the right time.
Unfortunately for Foster, injuries became a persistent problem in Houston. The team's longtime back simply couldn't stay healthy. Foster has played only 25 games in the past three seasons and is coming off a torn Achilles injury.
Although Foster claims he can still play at a high level, especially as a pass-catching running back, only time will tell if his 30-year-old body can hold up.