College Football Championship: Prop Bets And Line
By Jonathan K.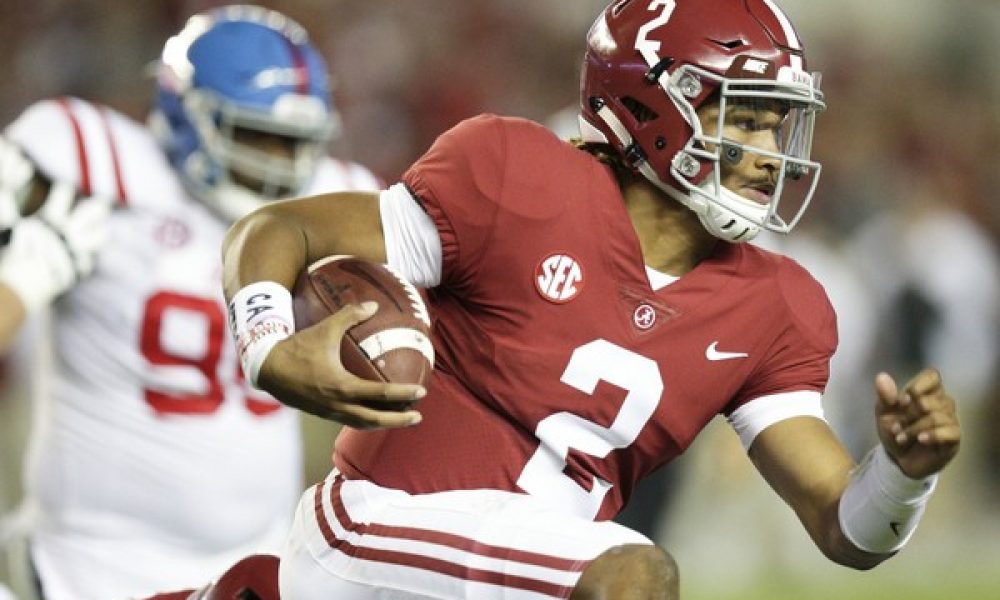 The College Football Championship game between Georgia and Alabama have a variety of ways for bettors to make money.
Starting with the old fashioned way, Alabama are the -5 point favorites in the Championship game. Alabama is 12-1 straight up this season but have only covered the spread in half those game. Alot of the reason why, is bettors drive up the line causing Alabama to often be excessively favored.
Geogia was 13-1 straight up on the season. They have been one of the best bets in the NCAA, covering in 10 games this season.
Alabama coach Nick Saban is 5-1 in College Football Championship games. Saban is also 3-1 during his tenure at Alabama against Georgia.
The total for the game is set at 46 points. The OVER has cashed in on five consecutive Alabama vs. Georgia games going back to the most recent in 2015.
In addition to betting on the line and total for the College Football Championship. Bovada and BetOnline are offering a ton of props bets for bettors to lay money on. You can check out some of the highlights below.
College Football Championship Prop Bets
3 Straight Scores by Either Team
Yes -165
No +145
Defense/Specials Teams Score TD in Game
Yes +160
No -185
Double Result (1st Half Result- Game Outcome)
Alabama – Alabama +100
Aabama – Georgia +600
Draw – Alabama +1600
Draw – Georgia +2000
Georgia – Alabama +550
Georgia – Georgia +250
First Score of the Game
Touchdown -220
Field Goal or Safety +180
Highest Scoring Half
1st Half -125
2nd Half + OT +105
Last Team to Score
Alabama -125
Georgia +105
Margin of Victory
Alabama by 1 to 6 Pts +325
Alabama by 7 to 12 Pts +400
Alabama by 13 to 18 Pts +700
Alabama by 19 to 24 Pts +1200
Alabama by 25 to 30 Pts +2000
Alabama by 31 to 36 Pts +3300
Alabama by 37 to 42 Pts +5000
Alabama by 43 Pts or More +8000
Georgia by 1 to 6 Pts +350
Georgia by 7 to 12 Pts +450
Georgia by 13 to 18 Pts +900
Georgia by 19 to 24 Pts +2000
Georgia by 25 to 30 Pts +4000
Georgia by 31 to 36 Pts +6600
Georgia by 37 to 42 Pts +10000
Georgia by 43 Pts or More +12500
Overtime
Yes +700
No -1000
Team to Score First
Alabama -140
Georgia +120
Time of First Score
Over 6½ Minutes -130
Under 6½ Minutes +110
Will There be a TD of 43 Yards or Longer?
Yes -105
No -115
Payer Props:
Player to Score 1st Touchdown
Damien Harris (Alabama) +600
Bo Scarbrough (Alabama) +800
Najee Harris (Alabama) +3300
Josh Jacobs (Alabama) +2500
Calvin Ridley (Alabama) +1000
Jerry Jeudy (Alabama) +2000
Henry Ruggs III (Alabama) +1600
Cam Sims (Alabama) +2000
Irv Smith Jr. (Alabama) +3300
Jalen Hurts (Alabama) +800
Nick Chubb (Georgia) +600
Sony Michel (Georgia) +800
DAndre Swift (Georgia) +2500
Elijah Holyfield (Georgia) +3300
Brian Herrien (Georgia) +5000
Javon Wims (Georgia) +1200
Terry Godwin (Georgia) +1600
Mecole Hardman (Georgia) +2000
Isaac Nauta (Georgia) +3300
Jake Fromm (Georgia) +3300
Alabama Defense/Special Teams +1600
Georgia Defense/Special Teams +2000
No Touchdown Scored +5000
Total Passing yards by Jake Fromm (Georgia)
Over 184½ Passing Yards +100
Under 184½ Passing Yards -120
Total Passing yards by Jalen Hurts (Alabama)
Over 174½ Passing Yards +115
Under 174½ Passing Yards -135
Total Receiving yards by Calvin Ridley (Alabama)
Over 67½ Receiving Yards -110
Under 67½ Receiving Yards -110
Total Receiving yards by Cam Sims (Alabama)
Over 17½ Receiving Yards -110
Under 17½ Receiving Yards -110
Total Receiving yards by Henry Ruggs III (Alabama)
Over 24½ Receiving Yards -110
Under 24½ Receiving Yards -110
Total Receiving yards by Javon Wims (Georgia)
Over 54½ Receiving Yards +100
Under 54½ Receiving Yards -120
Total Receiving yards by Jerry Jeudy (Alabama)
Over 27½ Receiving Yards +145
Under 27½ Receiving Yards -165
Total Receiving yards by Mecole Hardman (Georgia)
Over 27½ Receiving Yards -110
Under 27½ Receiving Yards -110
Total Receiving yards by Terry Godwin (Georgia)
Over 42½ Receiving Yards -110
Under 42½ Receiving Yards -110
Total Receptions by Calvin Ridley (Alabama)
Over 4½ Receptions -120
Under 4½ Receptions +100
Total Receptions by Javon Wims (Georgia)
Over 4½ Receptions +160
Under 4½ Receptions -185
Total Rush+Receiving Yards by Bo Scarbrough (Alabama)
Over 52½ Rush+Receiving Yards -110
Under 52½ Rush+Receiving Yards -110
Total Rushing yards by Damien Harris (Alabama)
Over 62½ Rushing Yards -120
Under 62½ Rushing Yards +100
Total Rushing Yards by Jake Fromm (Georgia)
Over 12½ Rushing Yards -110
Under 12½ Rushing Yards -110
Total Rushing Yards by Jalen Hurts (Alabama)
Over 50½ Rushing Yards -105
Under 50½ Rushing Yards -115
Total Rushing yards by Nick Chubb (Georgia)
Over 78½ Rushing Yards +105
Under 78½ Rushing Yards -125
Total Rushing Yards by Sony Michel (Georgia)
Over 67½ Rushing Yards +105
Under 67½ Rushing Yards -125