Eagles Plan to Make Wentz Inactive to Start Season
By Jonathon Natsis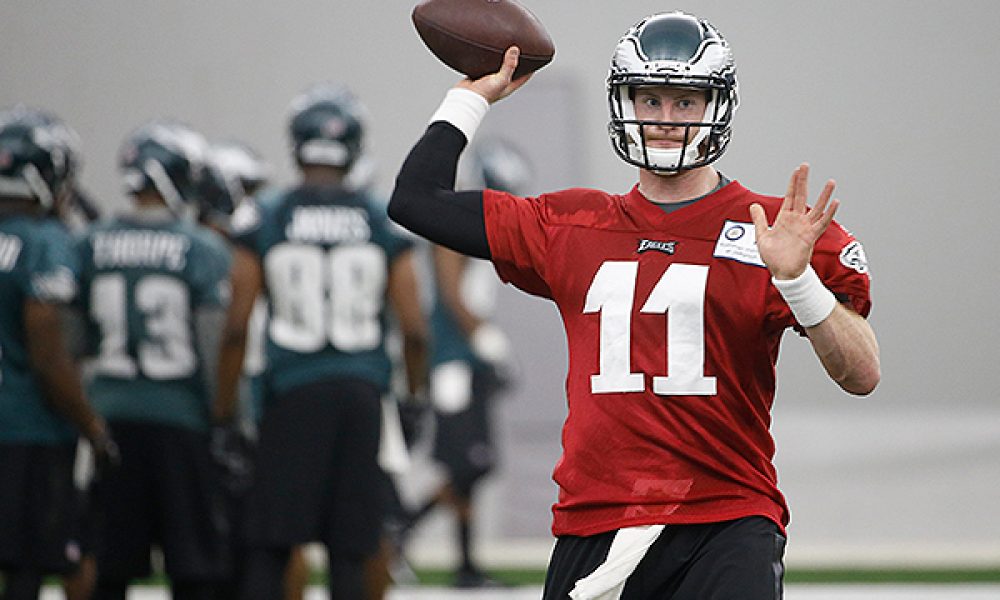 One of the most convoluted quarterback quandaries in the NFL may have just gotten a little simpler, with new Philadelphia Eagles head coach Doug Pederson declaring superstar rookie Carson Wentz would be inactive if the NFL season were to start tomorrow.
"Typically, the third quarterback is down. It's hard to look down the road, but if we had to play this week, Carson would be down. He'd be the third quarterback," Pederson clarified to local media in Philly. "That's probably the direction we're heading. Obviously barring injury and, as you know, how this game is, but typically the third quarterback, whoever that is, is down on game day."
On the one hand, there's a lot to like about how stoically the Eagles' new coach is handling this potentially divisive situation. As far as he's concerned, the young gun, talk-of-the-town type youngster hasn't earned anything in this league yet. Until he does, he will be treated – rightfully so – as the least contributive QB on the chart.
On the other, the Eagles didn't give up so much just to sit a star prospect on the bench without so much as a chance to prove himself if the season starts trending downwards. The days of redshirting a top-tier talent in the pros are long over, and especially so for quarterbacks.
Perhaps that's why Pederson was so cautious with his words. The NFL campaign – despite only a 16-game regular season – is a deceptively long one. There may be plenty of opportunities for Wentz to prove his worth in year one…at least, if the Eagles didn't feel some sort of financial commitment to seeing if the ridiculously overpaid Chase Daniel can't be a viable option.
But training camp and preseason are right around the corner; a time when many a roster is shaken up by shock cuts, underperformers and gate bolters. Without even current starter Sam Bradford's position secured, don't expect this heated competition to be over soon.