Isaiah Thomas Tossed for Clothesline on Wiggins
By David A.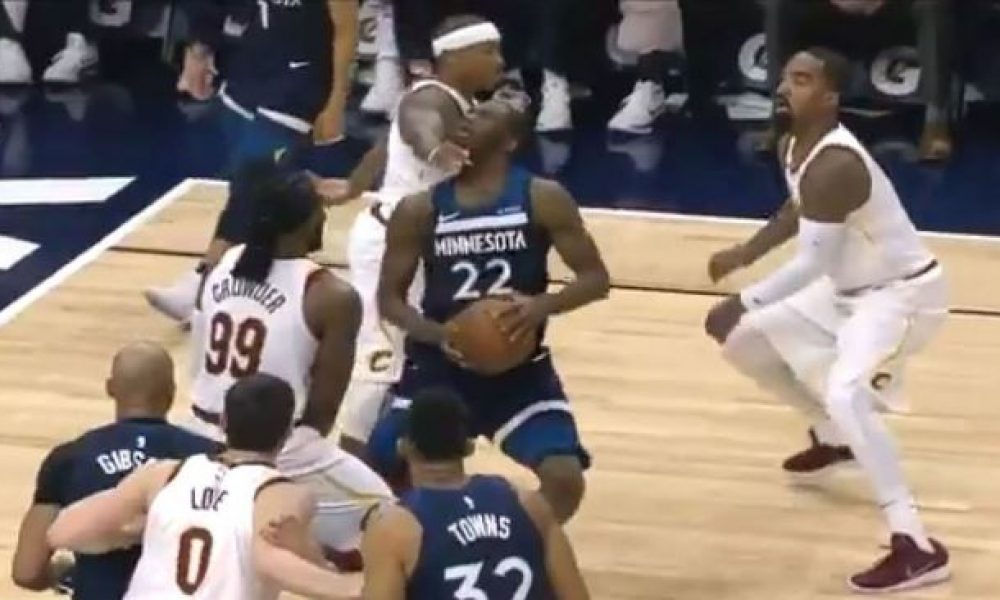 In just this third game back from his hip injury Cleveland's Isaiah Thomas was ejected during the third quarter following a hit on Minnesota Timberwolves' Andrew Wiggins.
When Wiggins drove toward the basket, Thomas swung his arm in an upward motion. He caught the forward in the jaw and neck area, dropping the Minnesota player to the floor. Following a review by officials, Thomas was handed a flagrant foul 2 and tossed out of the game.
After the game, Thomas told reporters in the locker room that he has made numerous steals by doing what he did, but on this occasion he hit the Minnesota player in his throat. Thomas added that he apologized immediately to Wiggins because his intent was not to hit him.
Wiggins accepted Thomas' apology and called the contact unintentional.
Cavaliers coach Tyronn Lue explained that Thomas was attempting to stab at the ball to make a steal. Lue added that he did not think Thomas should have been ejected.
Thomas said he understood the decision made by the referees, but insisted he was not attempting to hurt the player. He said that he was surprised he hit the player and the referees made the decision they did but understands when it comes to the head area, it looks bad.
Return
Thomas, who is playing limited minutes since returning after missing over seven months, did not reach his threshold of minutes in this outing. He left the game with nine points and three assists in just over 19 minutes of play after being ejected.
Isaiah Thomas finished the night shooting 3-for-11 after going 0-for-7 during the first half. As did two other Cleveland starters, JR Smith missed all of his five first half shots. Kevin Love missed his six shots.
Wiggins has hurt the Cavs since being drafted by Cleveland as the No. 1 overall pick in 2014 and then trading him to Minnesota for Love.
Entering the game on Monday, Wiggins had an average of 29.8 points per game with a field goal percentage of 55.8% and 52% from beyond the 3-point line in six games during his career against Cleveland.
On Monday, Wiggins scored 25 points to lead the Timberwolves while pulling down six boards.