James Harrison Looks Ready to Lead Steelers Defense Again
By Jonathon Natsis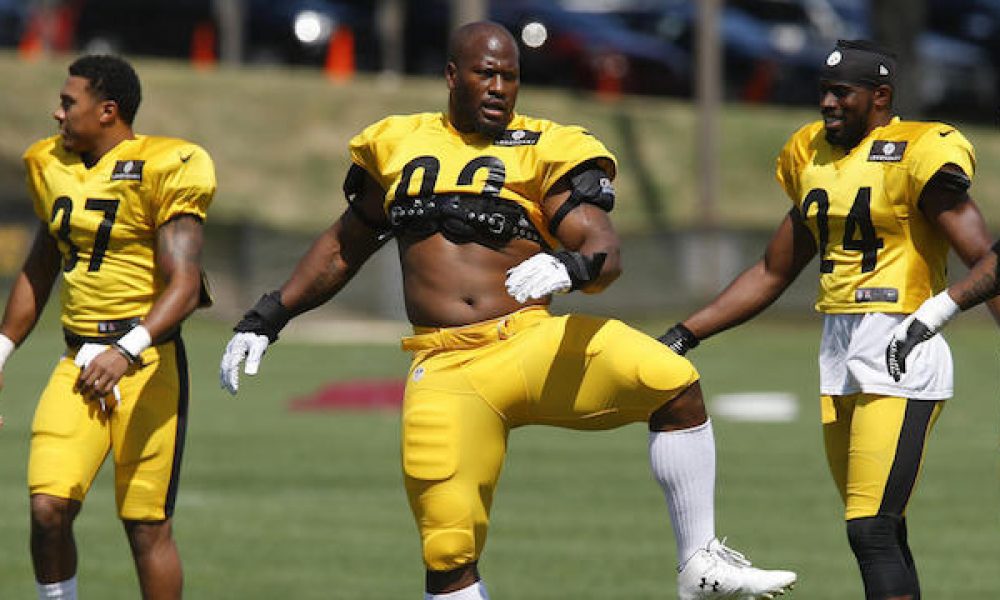 Most 38-year-olds won't get a start in the first week of preseason. But most 38-year-olds are not James Harrison. The Steelers veteran linebacker not only ran with the starters on Friday against the Lions, he dominated during his limited game time, suggesting he won't merely be along for the ride in his final NFL campaign.
Harrison recorded only two tackles before calling it a day prior to the end of the first quarter. But he certainly made his presence felt. First, he blew up Detroit running back Theo Riddick on a Matthew Stafford pass into the flat. With Riddick turning to locate the ball, Harrison exploded towards his coverage assignment, hitting the catcher square in the midsection and forcing an incompletion.
Later that series, with Detroit driving courtesy of clutch third down execution and poor Pittsburgh tackling, Harrison bull rushed right through his blocker and earned the strip sack, effectively taking points off the board deep in Steelers territory.
The veteran linebacker certainly looked in mid-season form from both a production and conditioning standpoint. While he probably won't see more than 20-25 snaps per game in the regular season, there's no doubting who the pass rushing playmaker continues to be on an otherwise young but slowly improving defense.
Last year, the Steelers hoped to get more out of first-rounders Jarvis Jones and Bud Dupree, selected in 2013 and 2015 respectively. Entering a contract year, Jones has developed into a capable run stopper and coverage man but remains a liability rushing the passer. Then-rookie Dupree showed flashes of talent, but increasingly struggled to show up on the stat sheet as the season wore on.
Unlike Jerome Bettis before him, Harrison will not be satisfied with only playing a bit part in an attempt to end his career a three-time Super Bowl champion. He needs just three sacks to set a new franchise record.
His recent play suggests he isn't only aware of the record, he craves it. The Steelers will be looking for him to lead by example once more if they hope to improve on last year's playoff march.