Justin Tucker Won't Re-Sign Without Long Term Deal
By Jonathon Natsis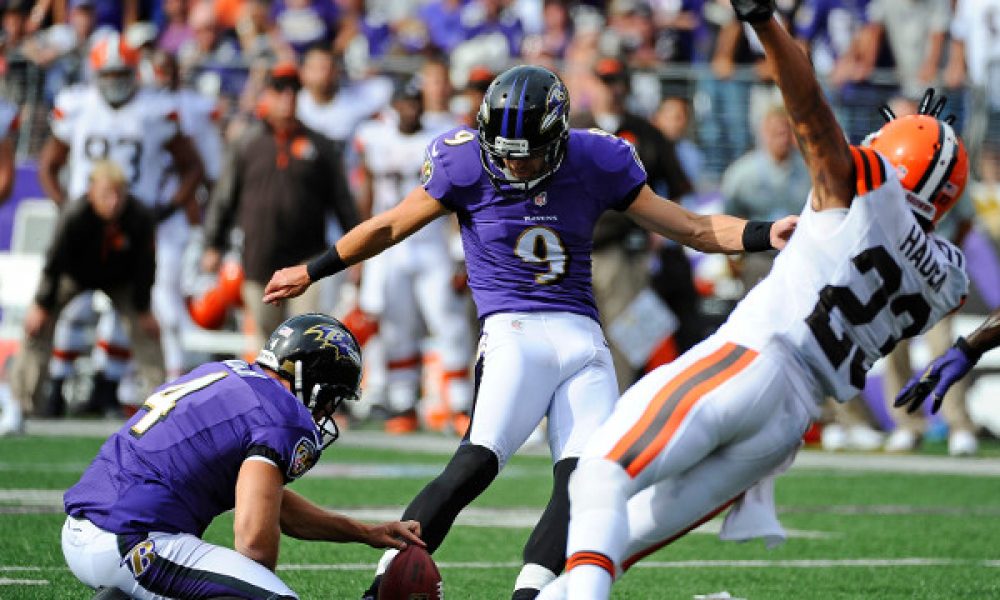 One of the best kickers in the NFL could be wearing a different uniform this time next year if things don't start happening fast. Baltimore Ravens kicker Justin Tucker has made it clear that he will not look to re-sign with the franchise if he isn't given a long-term deal before the contract deadline.
Problem is that the deadline is tomorrow, giving the Ravens the tiniest of windows to get this deal done.
"Justin's disillusioned with the process right now and the Ravens position with him on his contract," explained Tucker's agent, Rob Roche. "If we don't get a long-term deal done by [June 15], Justin will not entertain offers from the Ravens after the season."
Tucker's frustration is backed up by ESPN's NFL insider Adam Schefter, who tweeted that Tucker is "vowing not to re-sign with BALT after season if no long-term deal by Friday."
Baltimore placed the franchise tag on Tucker back in March, meaning he will earn a one-year, $4.5 million salary in 2016. The big implication with franchise tags is that they mainly serve as a placeholder until a multi-year contract is agreed upon.
The Ravens had offered Tucker a contract beyond this season, but it reportedly fell short of Stephen Gostowski's four-year, $17.2 million deal signed last year with the Patriots, as well as the four-year, $16.1 million contract signed by Packers kicker Mason Crosby in March.
All things considered, Tucker stands to make more over the course of a single season than either of those franchise kickers. But playing a position where employment is scarce and employers are fickle, NFL special teamers will take the long-term money every time.
Still only 26, Tucker has developed into one of the most dependable kickers in the league. Despite having his worst statistical season last year, Tucker's 33 made field goals from 40 attempts (as well as a perfect 29/29 on the new 33-yard PATs) remained one of the few bright spots on a once-hopeful team that dragged its way through a 5-11 season.
Tucker has a ridiculous 88% success rate for his career and holds a number of significant franchise records. You don't appreciate a good kicker until you no longer have one…advice for the Ravens to heed as their deadline fast approaches.