Max Scherzer in Excellent Form as He Faces the Padres
By David A.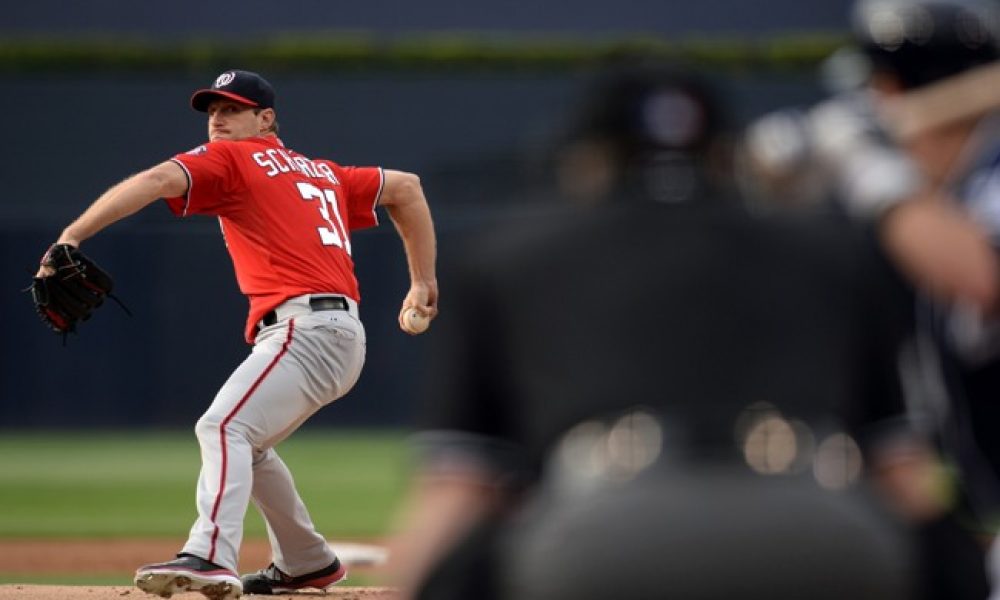 The Washington Nationals visit the San Diego Padres on Saturday at Petco Park for a National League showdown. This is the third game of a four-game series. The current line has Washington favored at -225, while San Diego is +206 and the over/under run total is sitting on 7.
Entering this game, Washington is 43-25 overall and 23-13 on the road. The Nationals are 8-2 over their past 10 games played. San Diego entering this game is 27-42 overall and 16-22 at home. The Padres are 3-7 over their past 10 games played.
Max Scherzer the veteran right-hander for Washington has pitched brilliantly during June and will be looking for his fourth straight win on Saturday in the third game of four against San Diego. Scherzer has given up just 12 hits while striking out 28 and walking 3 with an ERA of 1.23.
Scherzer is second in baseball in strikeouts with 118. He has 10 strikeouts or more in four games this season, including 20 on May 11 against Detroit that tied the MLB record. Washington has won the first two games of this series while scoring 15 runs. The Nationals are 10-2 over their past 12.
Daniel Murphy the National's second baseman had two hits including a home run with 3 RBIs in the 7-5 win on Friday. Murphy leads the majors in batting average with .361.
San Diego has lost six of its past seven games overall. Yangervis Solarte the Padres third baseman is mired in a hitting slump. He is hitless in 10 straight at bats in the series and has 1 hit in his past 28 at bats over his past 9 games played.
Scherzer on the season is 8-4 with an ERA of 3.40. San Diego will counter Scherzer with Colin Rea. The Padres right-hander is 3-3 with an ERA of 5.37.
Rea has pitched six consecutive starts without winning. He pitched his worst game of the season in his last outing. Rea allowed six earned runs, eight in all, on 9 hits over just 2 2/3 innings versus the Miami Marlins.
Washington first baseman Ryan Zimmerman blasted a two-run homer on Friday. However, he has just 3 hits over his past 26 at bats during the last seven games.
Matt Kemp has 3 hits in 7 at bats in this series for San Diego along with 3 RBIs. Kemp is batting .354 during June.
Prediction: The Nationals are playing very well at the moment and Scherzer is enjoying an excellent June. Lean toward the Nationals in this one.