Dwayne Wade Returns to Heat, Playoff Excitement Builds
By David A.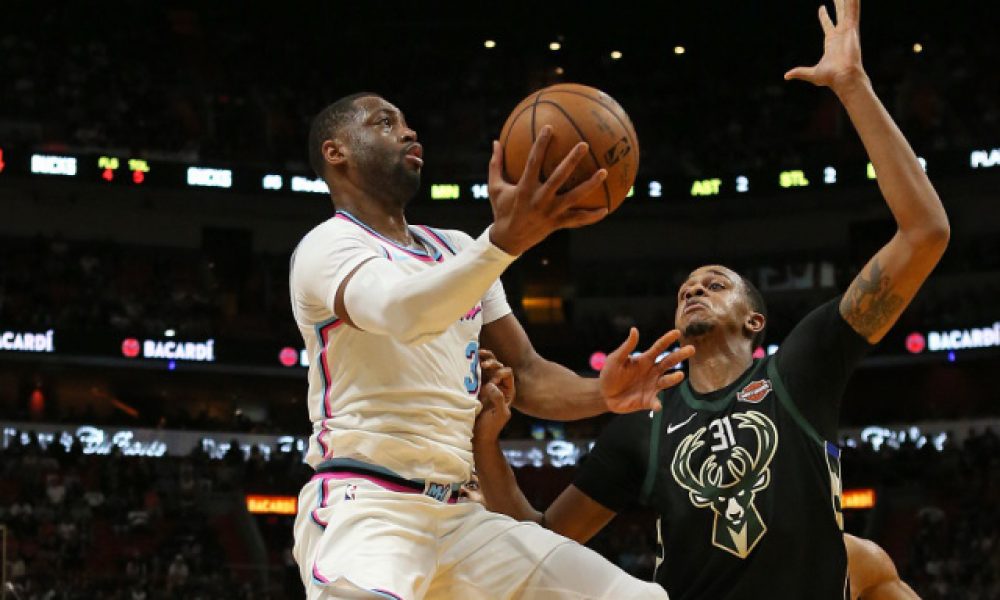 The Miami Heat were behind early in their Friday night game against Milwaukee and fans became eager to see the return of Dwayne Wade. The fans began to chant they wanted Wade as the Heat trailed 9-0.
However, Wade's first appearance did not come until a few minutes later at about the halfway point of the first quarter. Fans gave the veteran a standing ovation when he entered the game. Wade immediately made his presence felt with a rebound on the defensive end and a lob pass to center Hassan Whiteside for a slam dunk on the offensive end.
In all, Wade played for 22 minutes and Miami rallied to win 91-85. In the game, Waded scored three points, grabbed two boards, handed out two assists, made two steals and two blocks in his second debut with the Heat. The win by Miami snapped its losing streak at five.
Following the game, Wade spoke about how much energy was in the arena, calling it playoff-like atmosphere. He called the crowd amazing and said he had missed the Miami crowd.
Wade leads the Miami franchise in points, assists, steals, and games played. He played with the Heat after being drafted in 2003 until 2016 when he played for the Bulls, followed by the Cavaliers in 2017. Miami acquired Wade from the Cavaliers for a second round draft pick on Thursday just prior to the trade deadline.
The deal for Wade came as a big surprise and even coach Erik Spoelstra did not see it coming. Team president Pat Riley told the coach there was a possibility of acquiring Wade and Luke Babbitt.
Once Wade was acquired both coach and player could not wait for him to play on Friday. Wade said prior to the game he was calm and did not have that many nerves. Wade added that as soon as the game starts, you get into it and all the other peripheral stuff goes away.
Miami is currently in a battle for a playoff spot in the Eastern Conference. The Heat sits at 30-26 with 26 regular season games remaining. They are in seventh place in the conference standings one game ahead of eighth place Philadelphia and two ahead of ninth place Detroit.
However, only 1 ½ games separate the No 4 spot through No 7, so the Heat are only a 1 ½ games away from holding the fourth spot that is currently held by Washington and one game from the fifth and sixth spots currently held by Milwaukee and Indiana respectively.