NBA Rumors: Boston Celtics 'Most Likely Destination' For Russell Westbrook
By Ryan Ward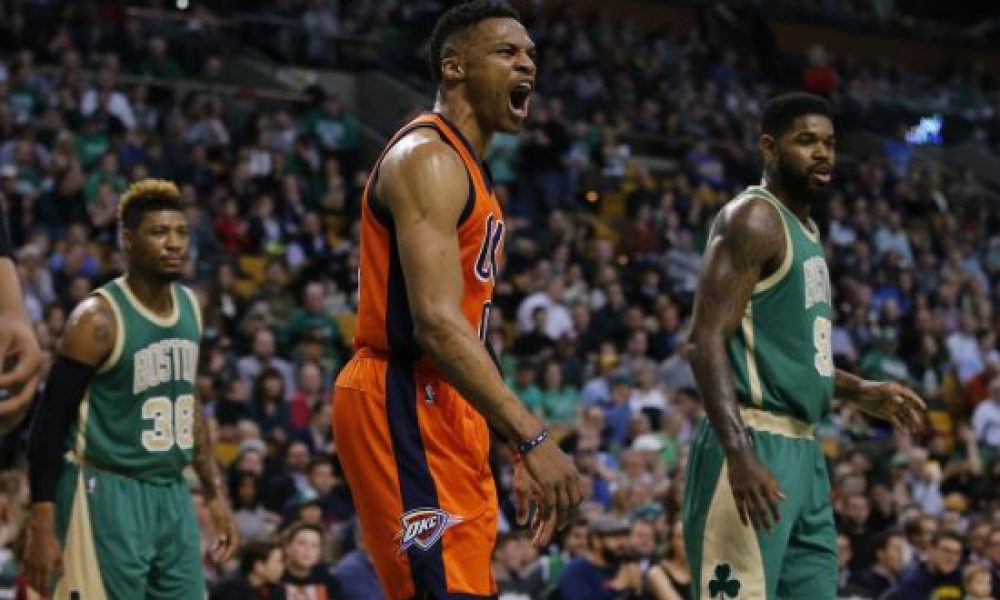 With Kevin Durant deciding to join the Golden State Warriors, the Oklahoma City Thunder are stuck in a difficult situation. Superstar Russell Westbrook has never had a higher trade value and all signs point to the perennial All-Star leaving the team in free agency next summer.
Westbrook's pending departure in free agency forces the hand of the Thunder brass. Trading the superstar point guard now rather than later makes a lot of sense. In retrospect, Oklahoma City should've traded Durant and don't want to make the same mistake with Westbrook.
Although there's been conflicting reports about the Thunder's intentions with Westbrook, Howard Beck of Bleacher Report is hearing the team will trade the 27-year-old sooner rather than later with the Boston Celtics in the lead to acquire him, via New York Post:
"What I'm hearing in Las Vegas from some GMs, not only are they hearing that Westbrook will get traded, it's that it will be sooner rather than later — before the season starts — and the most likely destination is the Boston Celtics," reporter Howard Beck says in a video report.
Along with the Celtics, the Los Angeles Lakers have been rumored to be a potential destination for Westbrook. The storied franchise is desperate to right the ship after three straight losing seasons and adding Westbrook is seemingly a step in the right direction.
The Lakers, like the Celtics, have the assets to make a blockbuster trade work. D'Angelo Russell, Julius Randle, Jordan Clarkson, and rookie Brandon Ingram are all intriguing pieces that could be involved.
As of right now, the Celtics may be the most likely destination, but don't be surprised to see the Lakers get involved. Russell Westbrook's future is very much up in the air with no telling what can or will happen in the coming months. Westbrook may have very well played his last game for Oklahoma City.