NBA Rumors: Thunder Targeting Blake Griffin To Play Alongside Russell Westbrook?
By Ryan Ward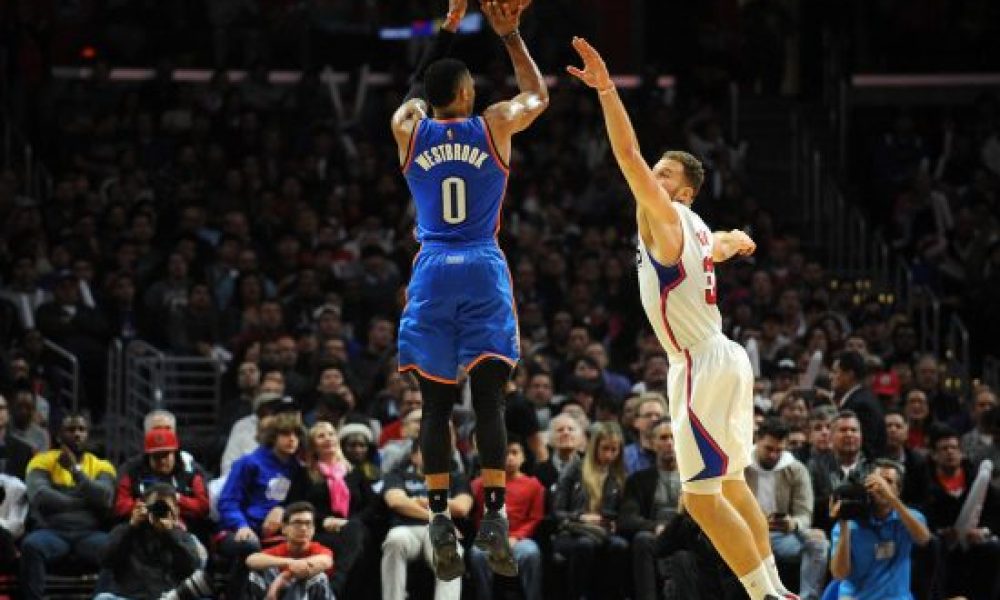 The Oklahoma City Thunder are at a crossroads. The team that came one win shy of reaching the NBA Finals lost arguably one of the best players in the franchise's history to the team that beat them and now they're scrambling to pick up the pieces.
With Kevin Durant now officially having signed with the Golden State Warriors, all the attention in Oklahoma City is on Russell Westbrook's immediate future with the team. Some believe he'll be traded before the upcoming NBA season. Others think Westbrook will walk in free agency next summer, but one thing is for certain, the Thunder have to do something to keep him long-term.
According to Adrian Wojnarowski of The Vertical, one move the Thunder brass appear to be trying to make is landing Blake Griffin in free agency a year from now:
For Westbrook, the most likely scenario for a renegotiation would be to use the Thunder's cap space to guarantee he will stay under contract with the Thunder through the 2017-18 season. This would give Oklahoma City the chance to recruit one of its top targets – 2017 free agent and Oklahoma native Blake Griffin of the Los Angeles Clippers – to partner with Westbrook, league sources said.
On Monday, the Thunder rescinded their qualifying offer to Dion Waiters, according to Wojnarowski:
The Oklahoma City Thunder rescinded the qualifying offer to guard Dion Waiters on Monday, making him an unrestricted free agent, league sources told The Vertical.
This move is an attempt to get Westbrook to sign an extension the same way his former teammate James Harden did with the Houston Rockets earlier this month. Oklahoma City wants to avoid losing Westbrook in free agency, but it remains uncertain if they'll be able to do so.
Landing Griffin on the open market next summer would be a huge step in the right direction. Griffin would complement Westbrook's skill set while giving the team a hometown hero and replacing one superstar for another. There's no telling whether Griffin would seriously consider jumping ship from a perennial title contender like the Los Angeles Clippers, but if Chris Paul and company can't put it together next season, Griffin may make the same kind of move Durant did by joining forces with Westbrook.