NCAAB Future Odds: Duke On Top
By Jonathan K.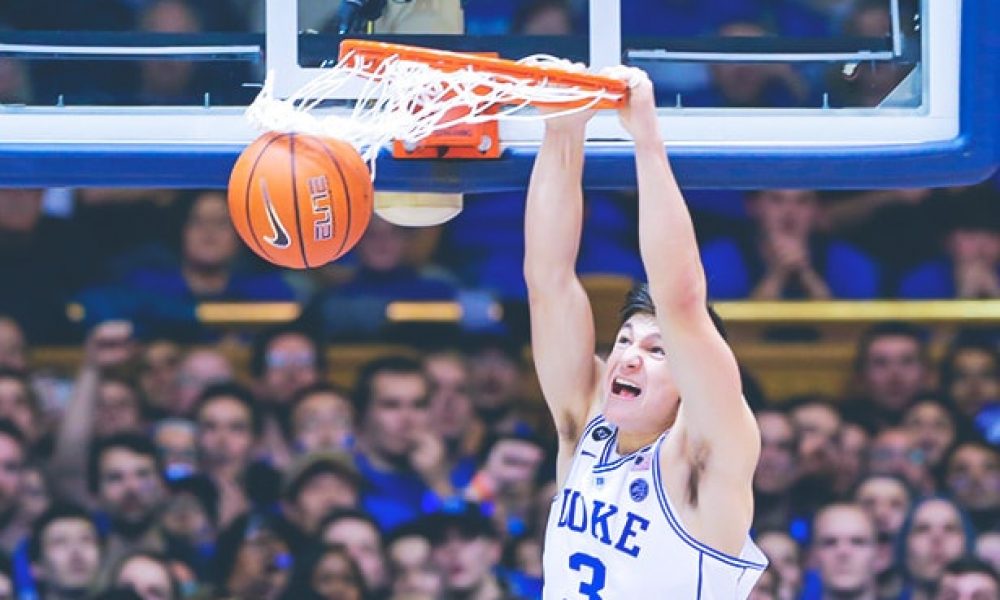 In the updated NCAAB future odds, it is Duke that now sits atop of the proverbial throne. Michigan State, Arizona and the ever-present, Kentucky, follow the Blue Devils in the odds.
The Blue Devils did lose some key players to the draft, however, bettors and the books have pushed this team to the top of the odds.
You can check out the full odds below. NCAAB future odds are pulled from Bovada.
NCAAB Future Odds
| | |
| --- | --- |
| Duke | 5/1 |
| Michigan State | 13/2 |
| Arizona | 8/1 |
| Kentucky | 10/1 |
| North Carolina | 12/1 |
| Kansas | 14/1 |
| Missouri | 16/1 |
| Wichita State | 16/1 |
| Louisville | 20/1 |
| Villanova | 20/1 |
| Florida | 25/1 |
| Gonzaga | 25/1 |
| West Virginia | 25/1 |
| USC | 28/1 |
| Oregon | 33/1 |
| Alabama | 40/1 |
| Michigan | 40/1 |
| UCLA | 40/1 |
| Indiana | 50/1 |
| Miami,Florida | 50/1 |
| Purdue | 50/1 |
| Saint Mary's, CA | 50/1 |
| Virginia | 50/1 |
| Arkansas | 66/1 |
| Baylor | 66/1 |
| Butler | 66/1 |
| Notre Dame | 66/1 |
| Cincinnati | 80/1 |
| Florida State | 80/1 |
| Minnesota | 80/1 |
| Oklahoma | 80/1 |
| Seton Hall | 80/1 |
| Xavier | 80/1 |
| SMU | 100/1 |
| South Carolina | 100/1 |
| Auburn | 125/1 |
| Memphis | 500/1 |