NFL cut day: Analyzing the moves
By Matt Verderame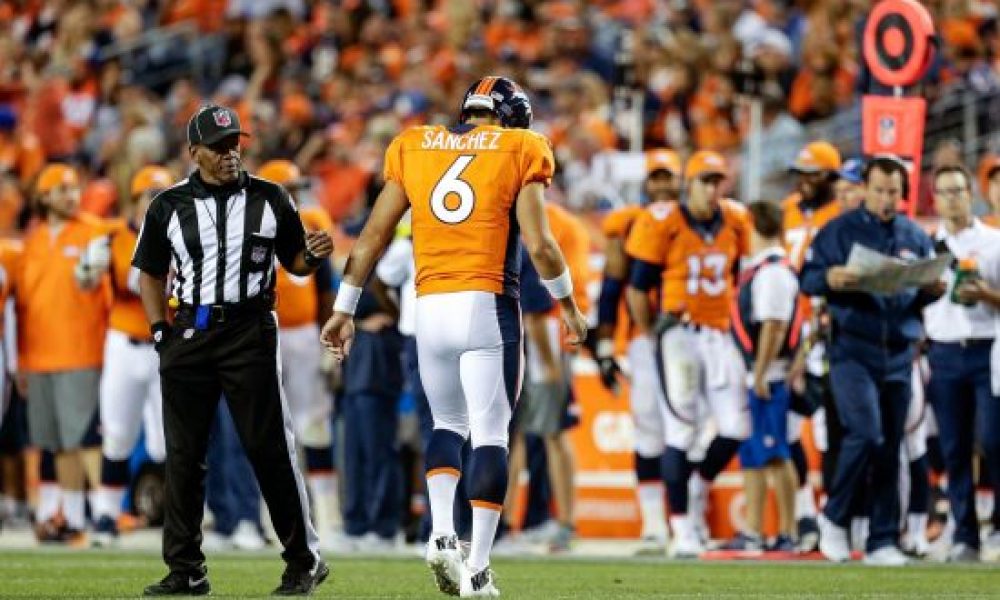 In the National Football League, it is a tough day for more than 700 players. On Saturday afternoon, the 32 teams need to be down to their 53-man rosters for Week 1, leaving many out in the cold.
Let's look at some of the moves that have been made, and some reported moves on the way (as of Saturday midday):
Broncos cut Mark Sanchez, rumored interest in trading Aqib Talib
The #Broncos cutting Mark Sanchez show the confidence they have in rookie QB Paxton Lynch.

— Ian Rapoport (@RapSheet) September 3, 2016
The Denver Broncos are making Aqib Talib available for a trade for the right price per multiple sources.

— Dianna Russini (@diannaESPN) September 3, 2016
We all knew the former of this was coming. Sanchez was going to get cut after it was announced that second-year quarterback Trevor Siemian was going to be the starter. There was no way that general manager John Elway was going to give up a conditional draft pick and pay $4.5 million to Sanchez for a clipboard holder.
As for the Talib rumor, that's surprising. The Broncos have to feel good about Bradley Roby and Kayvon Webster, two corners who are both young and talented. With Talib being a contentious player throughout his career, perhaps Elway feels the time is now to move on.
UPDATE: Sanchez will sign with the Dallas Cowboys.
Former Broncos and Eagles QB Mark Sanchez is going to sign with the Dallas Cowboys, league source tells ESPN.

— Adam Schefter (@AdamSchefter) September 3, 2016
Ravens moving on from Justin Forsett
#Ravens also officially released RB Justin Forsett, WR Jeremy Butler, Safety Terrence Brooks.

— Dov Kleiman (@NFL_DovKleiman) September 3, 2016
Baltimore decided that Justin Forsett was not going to be part of the plans in 2016. The Ravens clearly like their young running backs in Buck Allen and Terrance West.
Forsett is coming off a broken arm from last season, and at 29 years old, perhaps general manager Ozzie Newsome wanted to give his younger guys some run. Forsett should have no problem finding another job provided he's healthy, although with just one great season on the resume, it might not come with big money.
Packers to release or trade Josh Sitton
All-Pro guard Josh Sitton will be released if the Packers are unable to trade him, per a source. https://t.co/TBgAyu2ztM

— Rob Demovsky (@RobDemovsky) September 3, 2016
Green Bay put out the shocker of the day when news dropped that All-Pro guard Josh Sitton. Sitton has been to the Pro Bowl in three of the last four seasons and an All-Pro in all of the previous three campaigns.The hulking left guard also won the Super Bowl in 2010 with the Packers in his third pro season.
It stands to reason there will be a ton of interest in Sitton, who could be favored to land with the Jacksonville Jaguars or Kansas City Chiefs. Jacksonville is Sitton's hometown and the Jaguars desperately need offensive line help. Kansas City has general manager John Dorsey, who was in the front office that drafted Sitton and got to know him over five years. The Chiefs also offer a chance to start and win right now.
UPDATE: Sitton has officially been released.
Packers officially cut G Josh Sitton. https://t.co/EudZ3hhoPx

— Adam Schefter (@AdamSchefter) September 3, 2016
NFL teams are required to sign their 10-man practice squads by Sunday afternoon, finalizing the preseason. The first game of the regular season is on Thursday, when the Carolina Panthers visit the Denver Broncos in a rematch of Super Bowl 50.