Atlanta Falcons Expected To Decrease Devonta Freeman's Carries Next Season
By Ryan Ward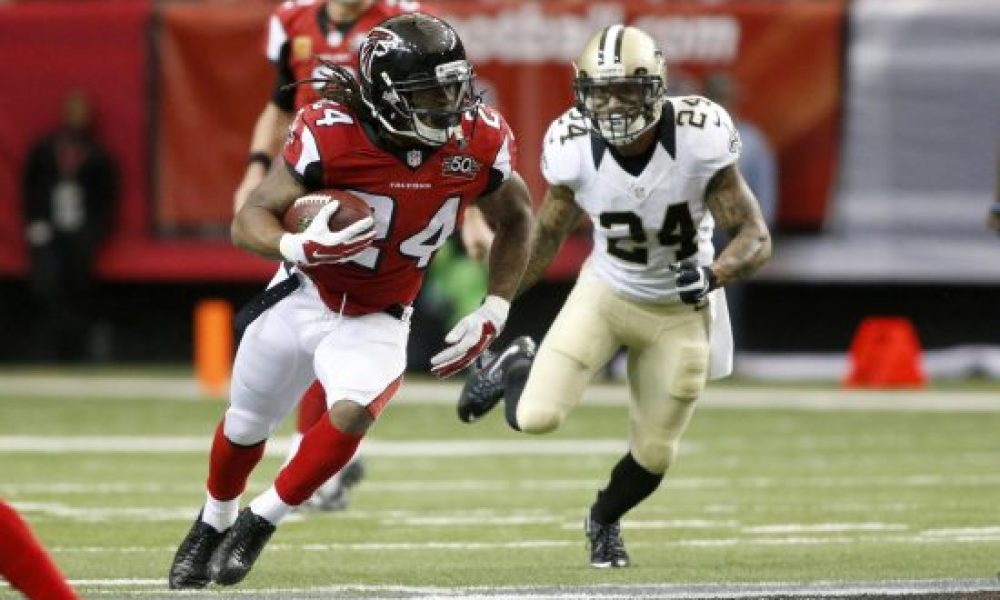 Last season, the Atlanta Falcons got an unexpected boost on the offensive side of the football. Running back Devonta Freeman burst on the scene and quickly became a household name.
As arguably the team's second-best weapon on offense behind wideout Julio Jones, Freeman was expected to be heavily involved in the offense once again in 2016. Apparently, that won't be the case. Freeman's carries next season won't stay the same or increase, but will be decreased, according to running backs coach Bobby Turner via D. Orlando Ledbetter of The Atlanta Journal-Constitution
"It's about growth," Turner told The Atlanta Journal-Constitution. "Free had a good year, but I'm expecting even a better year. Well, you're saying, how can it be better? It can be even better with less carries or less catches because I'd obviously like to get Tevin (Coleman) more involved and that also keeps Free fresher."
During the 2015 campaign, Freeman was one of the best backs in the game. Freeman was a threat on the ground as well as a receiver. The 24-year-old rushed for 1,056 yards and 11 touchdowns while also catching 73 passes for 578 yards and three touchdowns.
Along with earning the distinction as one of the league's elite backs, Freeman made the Pro Bowl for the first time in his career. The back single-handedly changed the game for the Falcons making Atlanta one of the most dynamic offenses in the NFL.
The Falcons will face stiff competition in the NFC South once again next season. The defending division champion Carolina Panthers are a heavyweight in the conference, New Orleans Saints are always a threat with Drew Brees under center, and the Tampa Bay Buccaneers are a team on the rise.
Decreasing Freeman's carries may not last long if the Falcons struggle to get going offensively from week to week.