Mark Sanchez Feels He May Have 'Squandered An Opportunity' To Be Broncos Starting QB
By Ryan Ward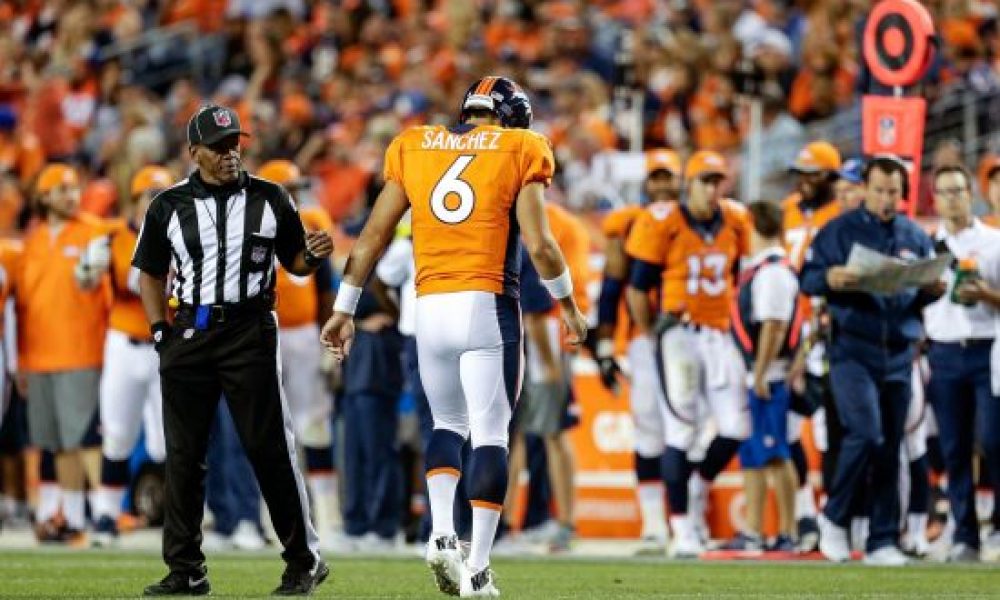 The post-Peyton Manning era in the Mile High City is underway. Although the team thought they had the quarterback of the future in Brock Osweiler, the Denver Broncos were forced to go in another direction. NFL journeyman Mark Sanchez was considered to be the next guy up, but that may no longer be the case halfway through the preseason.
After falling to the San Francisco 49ers on Saturday, Sanchez spoke to the media about his performance. The former USC star gave an honest assessment of his performance in which he fumbled twice. The veteran quarterback feels as if his chances of being the new starting quarterback for the Broncos is quickly slipping away, via Conor Orr of NFL.com:
"I feel like I squandered an opportunity to separate myself," Sanchez told reporters after Saturday's 31-24 loss to the 49ers. "Poor quarterback play."
Sanchez is currently in a three-way battle to be Manning's successor under center in Denver. Trevor Siemian is viewed as the legitimate threat to steal the starting job away from Sanchez, but rookie Paxton Lynch, widely seen as the future face of the team, may be making things interesting as the regular season draws near.
Broncos head coach Gary Kubiak has made it known that Lynch is still in the mix for the starting job along with Sanchez and Siemian. Kubiak said the following about the team's rookie gunslinger, via Mike Florio of Pro Football Talk:
"He's always been in the mix," Kubiak told reporters after Saturday's preseason game against the 49ers. "I just told you guys that he's behind the other two from a knowledge standpoint, but we've been out there competing every day. Everybody is in competition to play."
At this point, it is anyone's guess as to who will be under center in Week 1 for the Broncos. It appears that the quarterback competition is extremely close with no telling which one of the three will get their chance to shine once the regular season gets underway in a few weeks time.