Patriots QB Jimmy Garoppolo Suffers Shoulder Injury In Win Over Dolphins
By Ryan Ward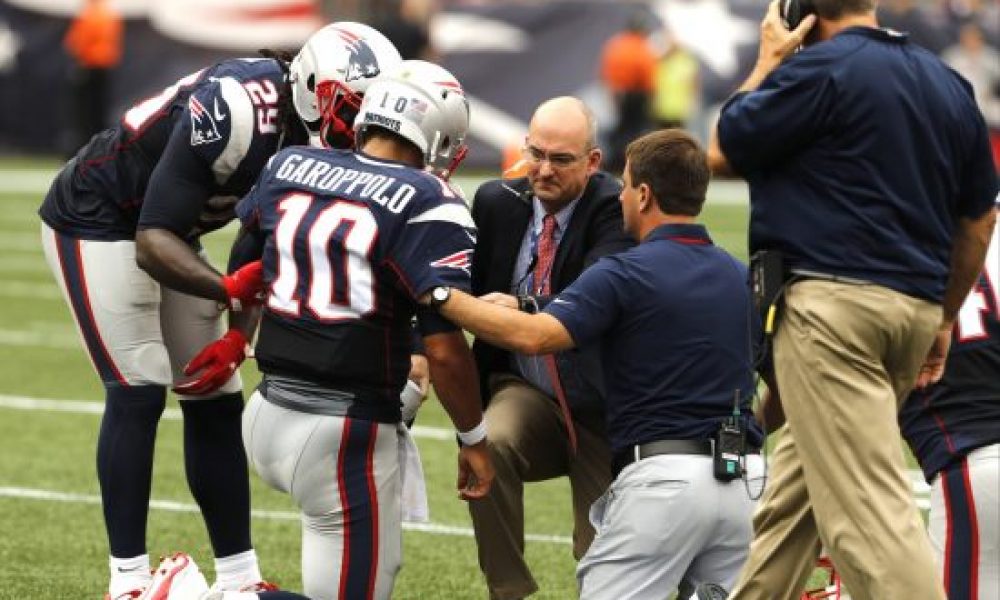 The New England Patriots will be without superstar quarterback Tom Brady until Week 5 due to suspension. Bill Belichick have had to lean on a promising young gunslinger in Jimmy Garoppolo who had an impressive debut in Week 1. Now they may have to go to another option after Garoppolo went down with a shoulder injury in Week 2.
According to Gregg Rosenthal of NFL.com, Garoppolo suffered a shoulder injury in the win over the Dolphins and was replaced by rookie Jacoby Brissett.
The third-year player was knocked out of Sunday's 31-24 victory over the Miami Dolphins midway through the second quarter with a shoulder injury. He didn't return after being ruled out in the second half. Rookie third-round pick Jacoby Brissett came into the game with the Patriots leading, 21-0. Wide receiver Julian Edelman was the emergency quarterback.
Fortunately, the team only has to play two more games before getting the face of the franchise back on the field. Sporting a 2-0 record using Tom Brady's backups is promising, to say the least. The real question is whether Brissett can shoulder the load the next two weeks if Garoppolo can't get back on the gridiron.
Unlike Garoppolo, who passed for three touchdowns in the first half, Brissett didn't blow anyone away with his play on Sunday against the division rival Dolphins. New England was in complete control before Brissett took the field. The rookie quarterback out of North Carolina State went for 6-of-9 passing for 92 yards and helped the Patriots close the door on the Dolphins, 31-24.
With two wins in the books for New England, Belichick and company will host J.J. Watt and the Houston Texans in Week 3. Brissett, if Garoppolo is unable to go, will have his work cut out for him trying to get the offense going with Watt putting on the pressure.