Vikings RB Adrian Peterson Suffers Torn Meniscus In Right Knee
By Ryan Ward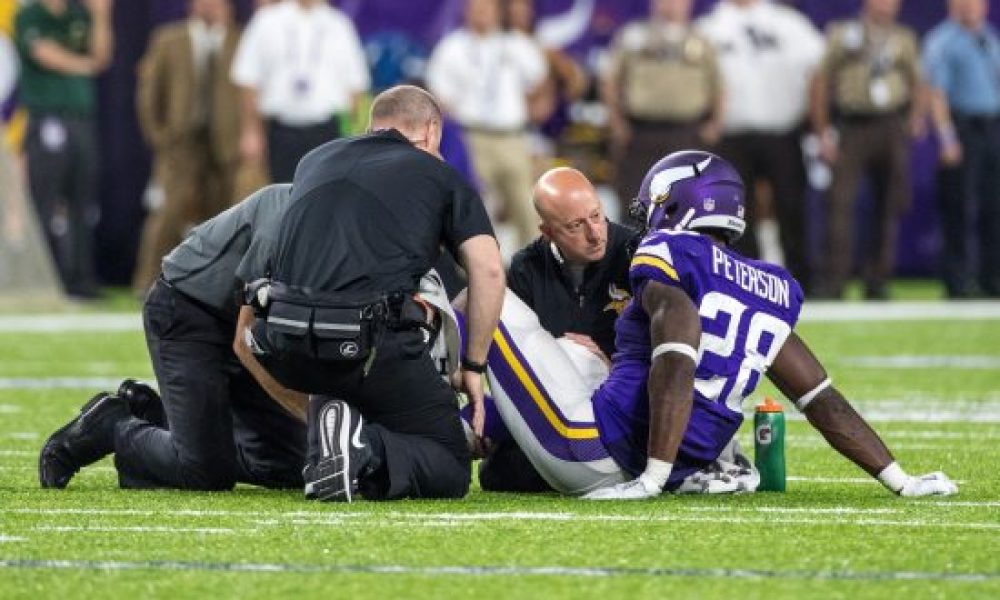 The Minnesota Vikings have had no luck keeping their star players healthy with the 2016 NFL season underway. Quarterback Teddy Bridgewater suffered a season-ending injury before the season even began, and now superstar running back Adrian Peterson has gone down with a knee injury as well.
During the divisional showdown with the Green Bay Packers on Sunday night, Peterson went down with an apparent leg injury that knocked him out of the game. Peterson, who is no stranger to injuries, limped off the field and didn't return.
According to Ben Goessling of ESPN, Peterson tore the meniscus in his right knee.
Minnesota Vikings running back Adrian Peterson suffered a torn meniscus in his right knee during Sunday's 17-14 victory over the Green Bay Packers, Vikings head coach Mike Zimmer said Monday.
Although the injury appears severe enough to potentially sideline Peterson for a considerable amount of time, Vikings head coach Mike Zimmer hasn't ruled him out for the team's Week 3 matchup against the Carolina Panthers, via Goessling.
Zimmer, who said a timetable for Peterson's return is uncertain, did not rule out the running back playing this week and said the team is looking at several options.
With Peterson possibly on the shelf moving forward, the Vikings will likely turn to a combination of Matt Asiata and Jerick McKinnon to shoulder the load in the meantime.
Despite the injuries to Bridgewater and Peterson, Minnesota is still sporting a 2-0 record. New starting quarterback Sam Bradford seems to be an ideal replacement for Bridgewater as he proved his worth last night against the visiting Packers, and may be able to carry this team as the franchise tries to compete for the NFC North division title.
As of Monday, the Vikings are underdogs for Week 3 against the Panthers on the road. Carolina is favored with a -7 point spread, according to Sportsbook.ag.