Rams Fool Nobody By Naming Keenum Starter
By Jonathon Natsis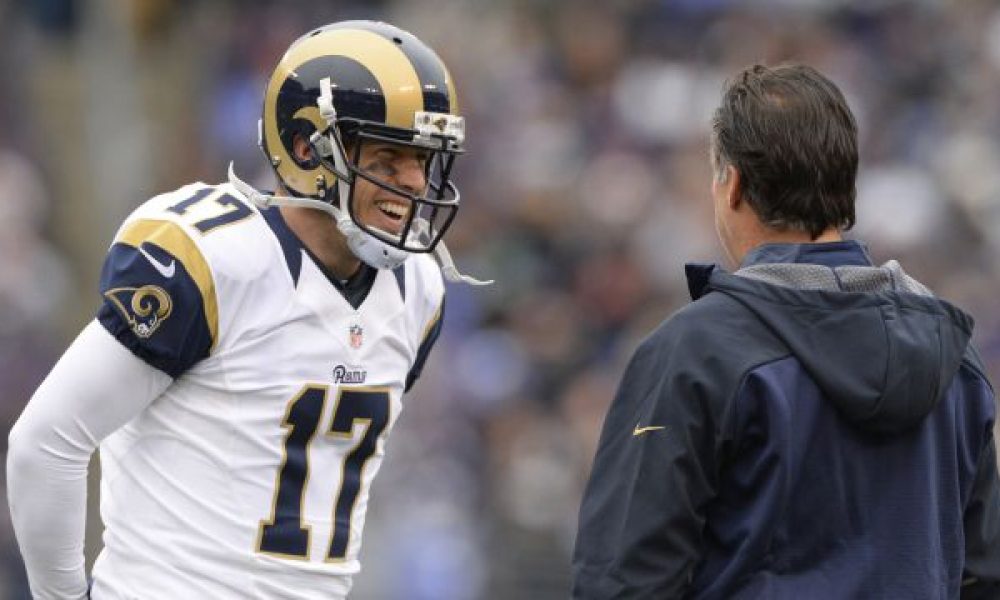 The Los Angeles Rams aren't quite ready to end the façade. Mere weeks out from training camp, head coach Jeff Fisher remains steadfast on the decision to open camp with Case Keenum as the starting quarterback.
This is not the first time the Rams have been queried about what to do with their number one overall pick – and current backup – Jared Goff. But the answer has always been the same: the job is Keenum's to lose, and Goff will start when the coaching staff sees fit.
"We'll start [Goff] when he's ready," Fisher reiterated. "I didn't say that to imply he's going to start the opener. I said we have options. He could start anywhere from the opener to whenever. We haven't changed our philosophy on that."
That all sounds well and good, except that Goff is going to start in week one, and there's nothing Fisher, Goff or anyone else can say to deceive the rest of the league. The fact is, the Rams are a team of losers. Losing teams breed impatient fans, coaches and front offices, and with that impatience comes an increasingly desperate yearning to pounce on anything that could possibly turn your misfortunes around, like, say, a potential franchise QB.
Maybe the team wants to lull its opening week opponent, the divisional rival 49ers, into a false sense of security. Maybe it wants to plug an underdog story on the upcoming season of Hard Knocks, which culminates in the plucky rookie nabbing the job from the underwhelming vet. Whatever the reason, the Rams already know what they have in Case Keenum. And what they have is a perennial backup with a limited and non-exceptional set of skills, who strikes fear in the hearts of exactly zero NFL-calibre defenses.
Is Goff really better off riding the pine and studying the playbook for an arbitrary number of weeks as opposed to taking over the offense, building chemistry with teammates and learning from his mistakes? The era of uber-early draft picks redshirting their first pro season is long over. It's hard to even think of a team that enjoyed a successful season that was prefixed with a premeditated change at quarterback, and Fisher has been around long enough to know that isn't a viable strategy.
Keenum may be starting for the cameras, but Rams fans should have immediate cause for concern if Goff doesn't take the first snap of the season.