Tony Romo Out 6-10 Weeks With Broken Back. Yikes.
By Amber Lee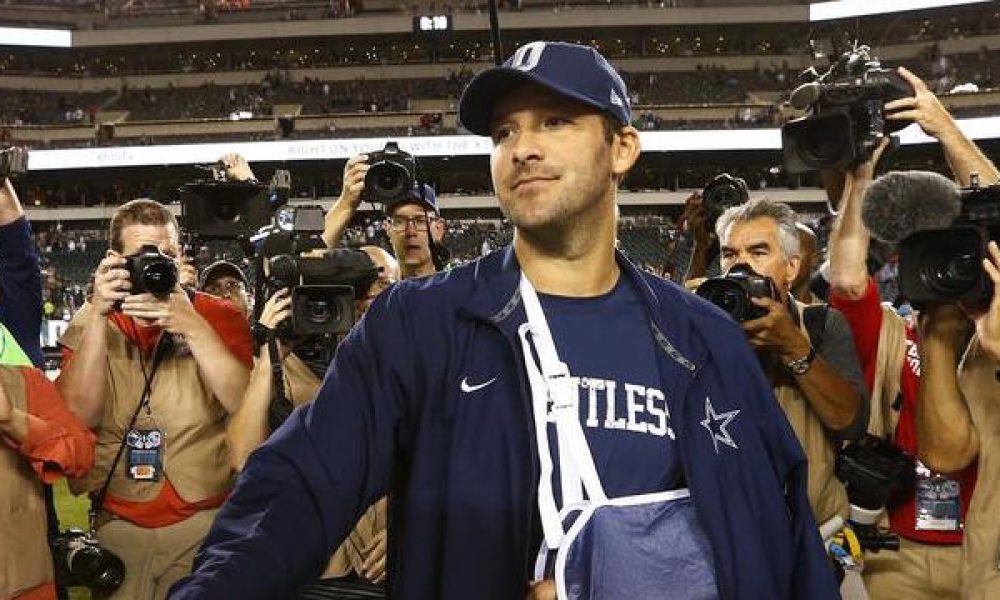 On Thursday Dallas Cowboys quarterback Tony Romo, once again, had to be scraped off the field after suffering an injury during a preseason game against the Seattle Seahawks. It certainly didn't look good for the chronically enfeebled Romo, who did not return to the game, but the Cowboys, once again, were in denial.
In a development that shocked absolutely nobody outside the Cowboys organization, it turned out the injury was far less innocuous than the team initially let on. Head coach Jason Garrett said Saturday that an MRI on Romo's back Friday revealed a broken bone in his back.
The Cowboys discovered a fractured verterbae in Tony Romo's back. Expected to miss 6-10 weeks. Wow

— Jason La Canfora (@JasonLaCanfora) August 27, 2016
Yeah, that's right, dude has a broken back. While that's probably a nice vacation for his ribs, collar bone, shoulder, thumb, and maybe even his brain, Romo's back has already suffered enough. More than enough. More than any one back should suffer in an entire lifetime, let alone over three years.
Romo's back has long been an issue, with minor ailments dating back to 2009, and more major recent events. He suffered two fractured trasverse process in 2014 but managed to play through that injury.
He lasted just one series on Thursday against the Seahawks. A hard hit sent the veteran quarterback reaching for his back in agony, though he and the team quickly brushed the injury off as nothing of consequence.
My understanding is that best-case scenario is that #Cowboys QB Tony Romo returns by mid-season. He broke a different bone than last time.

— Ian Rapoport (@RapSheet) August 27, 2016
Perhaps the only saving grace in Dallas right now is that  Dak Prescott has been so impressive. Through three weeks of preseason action the rookie out of Mississippi State has thrown five touchdowns, rushed for two more and has not been turned over once.
Now it's time for the rookie to take his game to the next level, as regular season games are much more of a test.