Early NCAA Basketball National Title Odds
By Jonathan K.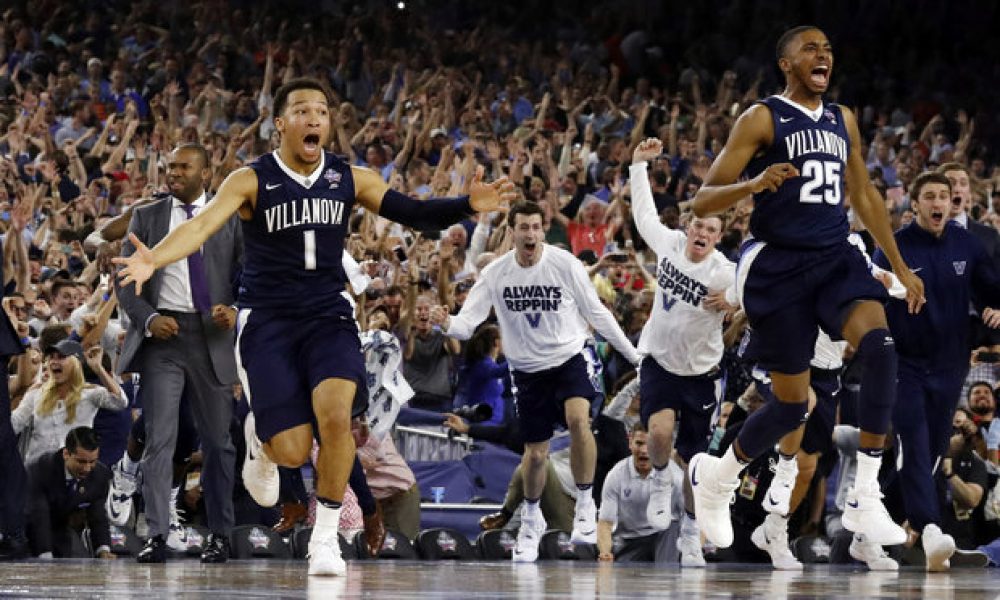 Next year's NCAA Basketball National Title future odds have been posted on many books and now is the time for a way-too-early analysis of said odds.
Defending champs Villanova have the third best odds. The always popular Kentucky has the second best and Duke is on top of the future odds with 9-2 odds.
The runner-ups UNC, who were the favorites to win it all this year, are 15-1 in these way-too-early future odds. The Tar Heels will be losing talent to graduation but are always have a solid program.
The other final four teams, Syracuse and Oklahoma are no where near the top of the odds. You can check out the full odds below:
NCAA Basketball National Title Odds
DUKE 9-2
KENTUCKY 6
VILLANOVA 8
LOUISVILLE 10
KANSAS 10
MICHIGAN ST 12
NORTH CAROLINA 15
INDIANA 20
VIRGINIA 20
XAVIER 20
OREGON 20
ARIZONA 20
WISCONSIN 30
WEST VIRGINIA 30
MARYLAND 40
PURDUE 40
U CONN 40
IOWA ST 50
MIAMI FL 50
SETON HALL 50
TEXAS 60
GONZAGA 80
SYRACUSE 80
UCLA 80
TEXAS A&M 80
BAYLOR 80
OKLAHOMA 80
UTAH 80
BUTLER 100
IOWA 100
MICHIGAN 100
WICHITA ST 100
FLORIDA  100
ARIZONA ST 100
MISSISSIPPI ST 100
SMU 100
CINCINNATI 100
VCU 200
NOTRE DAME 200
FLORIDA ST 200
CREIGHTON 200
GEORGETOWN 200
OHIO ST 200
COLORADO 200
USC 200
DAYTON 200
SAN DIEGO ST 200
SOUTH CAROLINA 200
ST MARY'S  200
VANDY 200
TENNESSEE 200
HARVARD 200
CALIFORNIA 200
AUBURN 300
OREGON ST 300
BYU 300
RHODE ISLAND 300
CLEMSON 300
PITTSBURGH 300
PROVIDENCE 300
TEXAS TECH 300
ILLINOIS 300
UNLV 300
NC STATE 300
NORTHWESTERN 300
NEBRASKA 300
COLORADO ST 300
LSU 300
OLE MISS 300
GEORGIA 300
ARKANSAS 300
ALABAMA 300
VIRGINIA TECH 300
GEORGIA TECH 300
WAKE FOREST 300
MINNESOTA 300
FRESNO ST 300
MEMPHIS 300
MARQUETTE 300
KANSAS ST 300
OKLAHOMA ST 300
PRINCETON 300
BOISE ST 300
HOUSTON 300
TULSA 300
DAVIDSON 300
OAKLAND 500
WASHINGTON 500
TEMPLE 500
ST BONNY'S 500
DEPAUL 500
ST JOHN'S  500
PENN ST 500
NEW MEXICO 500
MISSOURI 500
STANFORD 500
VALPO 1000
GEO WASH 1000
RICHMOND 1000
ST JOE'S 1000
U MASS 1000
RUTGERS 1000
YALE 1000
MONMOUTH 1000
IONA 1000
NORTHERN IOWA 1000
UTAH ST 1000
MIDDLE TENNESSEE ST 1000
LOUISIANA TECH 1000
OLD DOMINION 1000
MARSHALL 1000
EVANSVILLE 1000
ILLINOIS ST 1000
AKRON 1000
STEPHEN F AUSTIN 1000
CHATTANOOGA 1000
SOUTH DAKOTA ST 1000
NORTH DAKOTA ST 1000
TX ARLINGTON 1000
TCU 1000
OHIO  1000
BUFFALO 1000
TOLEDO 1000
ARK LITTLE ROCK 2000
LA MONROE 2000
LA LAFAYETTE 2000
GEORGIA ST 2000
PEPPERDINE 2000
NEW MEXICO ST 2000
UAB 2000
WEBER ST 2000
MONTANA 2000
BOSTON COLLEGE 2000
UTEP 2000
CHARLOTTE 2000
WESTERN KENTUCKY 2000
UC IRVINE 2000
LONG BEACH ST 2000
UCSB 2000
KENT ST 2000
CENTRAL MICHIGAN 2000
NEVADA 2000
WYOMING 2000
BELMONT 2000
WASHINGTON ST 2000
IPFW 2000
FLORIDA GULF COAST 2000
MOREHEAD ST 2000
CS BAKERSFIELD 2000
FIELD 500