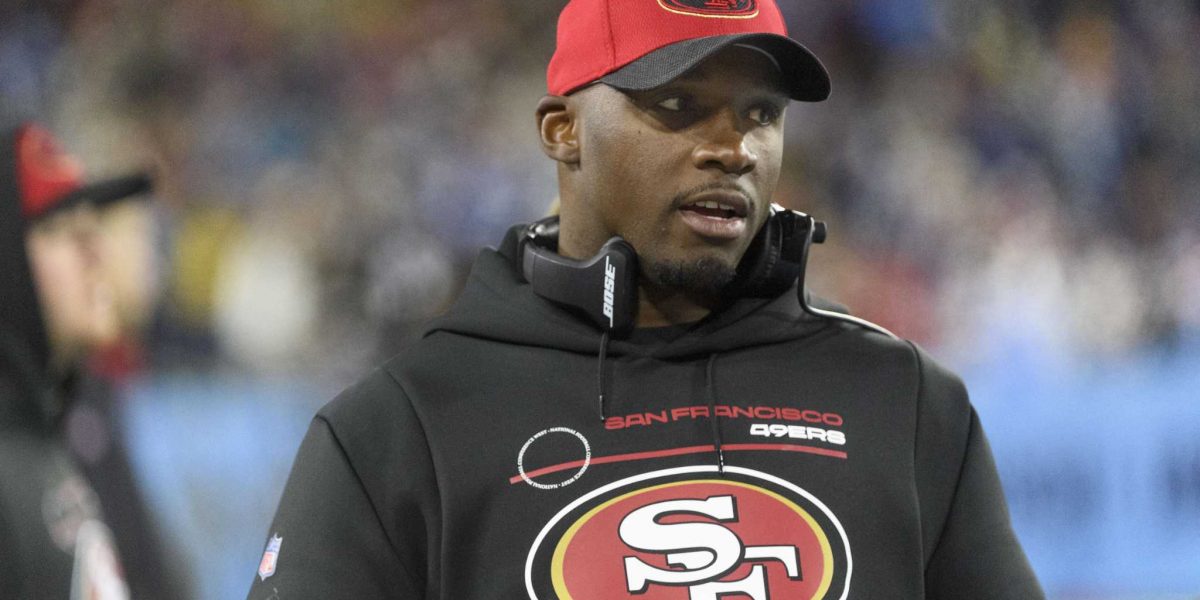 San Francisco 49ers defensive coordinator DeMeco Ryans works the sideline during an NFL football game against the Tennessee Titans, Thursday, Dec. 23, 2021, in Nashville, Tenn. (AP Photo/John Amis)
DeMeco Ryans On Building A Connection With His Players
Houston Texans head coach DeMeco Ryans remains quiet on what kind of quarterback he wants to build the team around. 
However, he confirmed that Houston will tailor their system for a new quarterback, not the other way around.
"It's all about the player that you have, not only a quarterback but a receiver. What does that guy do well?" Ryans said. 
"Linebackers, what do they do well? As coaches, you put guys in positions to be successful. It's not about a system per se. It's about just making sure that a player has the right tools and you're putting him in a spot where he can thrive."
Want $250 to bet on NFL futures?
Speaking of thriving, DeMeco Ryans has the chance to return the Texans to contention. On that, he says producing great men is the key to producing great players. 
"I think I relate to guys because I've been in these guys' shoes," DeMeco Ryans said at the 2023 NFL Scouting Combine. "I've played the game, I've been here through this combine process. I've played the game and played at a high level. I understand what players go through. Not only on the field, but it's off the field where guys are pulled in a lot of different directions."
"I understand that for you to be able to be a good coach, you have to be able to connect with guys. It's not just about telling guys what to do. It's being on that level with the guys where they have a true mutual respect for you. Guys truly feel that I have their best interest at heart. That's the only thing I care about, is developing great men on the field and off the field. I'm indebted to those guys. I want to see them be as successful as possible, see them create great lives for their families moving forward. That's my connection with players."