Jason Pierre-Paul Proves Freedom Isn't Free: Fireworks Accident Costs Giants DE a Long-Term Contract and a Finger
By Amber Lee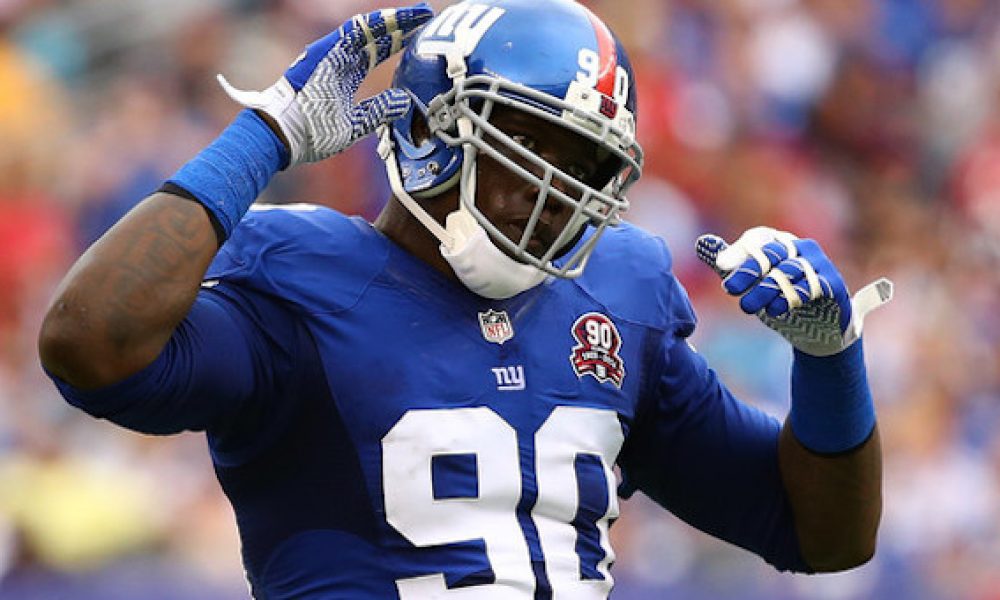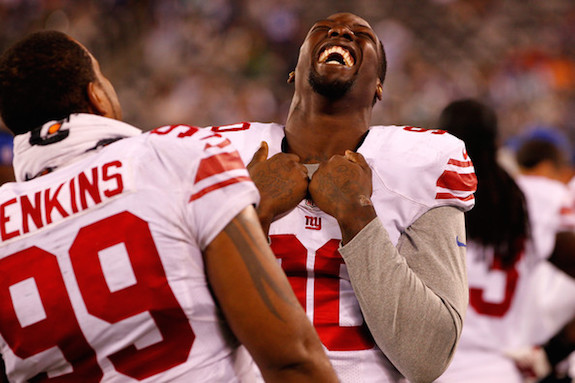 Freedom isn't free.
Few people understand the gravity of that statement more than New York Giants pass rusher Jason Pierre-Paul, who sacrificed an awful lot for America over the weekend while celebrating Independence Day with friends and family in Miami. Far more than he ever intended, that's for sure.
On Saturday it was reported that JPP had been hospitalized after sustaining a hand injury during a Fourth of July fireworks mishap. Although details were initially scant on the injury, which was classified as severe, the full picture is starting to come into focus.
And for Pierre-Paul, it's a bleak one. Like for real.
ESPN obtained medical charts that show Giants DE Jason Pierre-Paul had right index finger amputated today. pic.twitter.com/VI5cbS1uCw

— Adam Schefter (@AdamSchefter) July 8, 2015
First of all, the situation with his hand was so grisly that JPP personally selected amputation off a list provided by doctors of the various treatment options. Apparently the finger could have been saved, but the recovery time would have been extended, substantially increasing the odds of a season-ending setback.
The prospect of missing an entire season would be distressing for any athlete, but it's particularly pressing for Pierre-Paul, who is, at present, completely sans contract. Now if that sounds bad on the surface, dig a little deeper and it's actually much, much worse.
In March JPP was hit with the franchise tag—which would pay upwards of $15 million this season—something he obviously wasn't thrilled with, given he has yet to sign the tender. If he was using the delay to nudge the Giants towards a long-term deal, well then it worked perfectly.
The team recently offered Pierre-Paul a $60 million contract. Details of the deal haven't been made public—not that it matters now that the offer has been officially rescinded. Ouch. At least that's the story according to the NFL Network's Ian Rapoport.
Though the Giants have yet to comment on anything, outside superficial well wishes, ESPN insider Adam Schefter provided a little insight into what's been going on behind the scenes.
Giants officials have been in South Florida since Monday night but still have not been able to visit JPP. Waiting patiently, hoping he's OK.

— Adam Schefter (@AdamSchefter) July 7, 2015
Giants officials have come and gone from S. Florida without getting chance to visit the injured JPP, per sources. Made trip, never visited.

— Adam Schefter (@AdamSchefter) July 8, 2015
With trainer Ronnie Barnes inexplicably unable to meet with JPP after making the trip to Miami, he returned to New York with absolutely no information. The Giants only learned of the amputation when Schefter tweeted out the details.
Pierre-Paul's entire future is now in flux. Being down a digit certainly isn't going to strengthen his bargaining position, meaning a long-term deal this season is likely out of the question. And because he has yet to sign the franchise tender, there's still a chance that could be rescinded as well.
The good news for JPP is that, at this point, the Giants aren't expected to go that far. Of course, that could all change at some point if Pierre-Paul doesn't start reaching out immediately. So far it's been nothing but radio silence on his end, and it's safe to say franchise frustration is building.
Either way, Pierre-Paul's poor decision making has already cost him dearly. Now we'll have to wait and see if he can stop the bleeding before things get any worse.