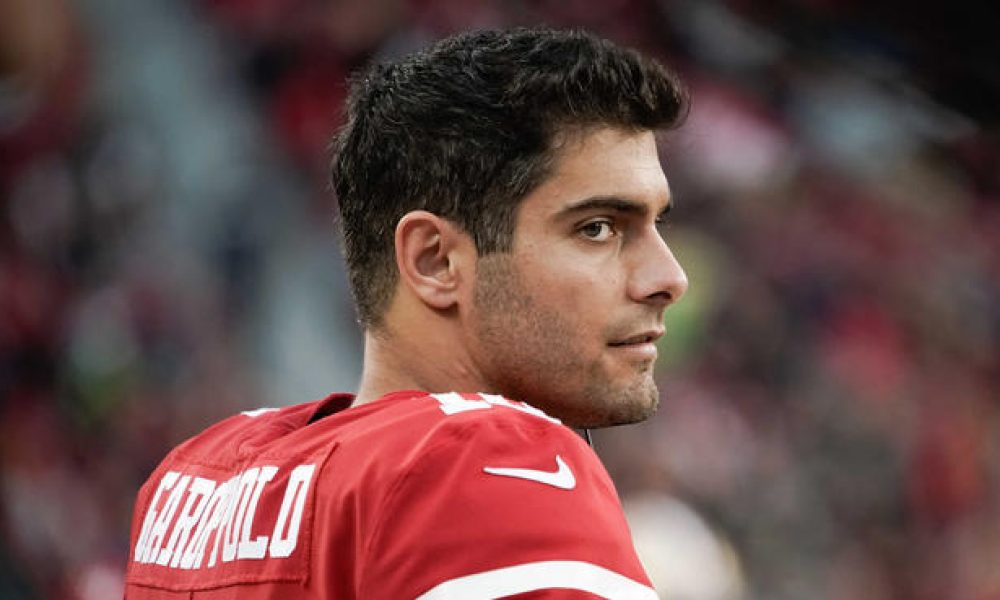 Nov 26, 2017; Santa Clara, CA, USA; San Francisco 49ers quarterback Jimmy Garoppolo (10) watches the game against the Seattle Seahawks during the fourth quarter at Levi's Stadium. Mandatory Credit: Stan Szeto-USA TODAY Sports
Jimmy Garoppolo: McDaniels Reunion 'Hard To Pass Up'
Raiders quarterback Jimmy Garoppolo is optimistic about what lies ahead once he re-learns the 'language' of Josh McDaniels' offense. 
Jimmy Garoppolo spent his first two-and-a-half NFL seasons working under offensive coordinator McDaniels at the New England Patriots. 
At San Francisco, Jimmy Garoppolo reached two NFC title games and a Super Bowl, but never won it. Since 2021 he's played with the knowledge that Trey Lance was being groomed to replace him.
Want $250 to bet on NFL futures?
In that sense he has something to provem as does his new team which underwhelmed last season, finishing 6-11.
"Kyle's offense versus Josh's offense, it's just a different mindset behind it," Garoppolo explained. 
"So, I think revamping my mind like that is the first step. And then just relearning the language. Basically, like going Spanish to French, something like that. It won't take long, but I think Josh's offense obviously has evolved over the years. Just gotta pick it up as quick as possible, but it won't take long.
"For me, it starts with he's very smart. He's very smart," Garoppolo added. "Taught me the game of football basically in the NFL. But he cares, too, about the game. He cares about winning. You can really tell, just talking to him that winning is very important. I wouldn't say that's true about everybody in the NFL. When you do get an opportunity like that, it's hard to pass up.
"Josh, he'll push you, but you appreciate it in the end."
"Oh yeah," Garoppolo said Friday when asked if the Raiders were on his radar as he approached free agency. "Right off the bat actually, one of my agents gave me the first list of teams. Raiders were right up there. I have the familiarity with Josh, Dave (Ziegler) – the [general manager]. All that played a role."