Jimmy Butler: Derrick Rose, Joakim Noah Leaving Bulls 'Has Nothing To Do With Me'
By Ryan Ward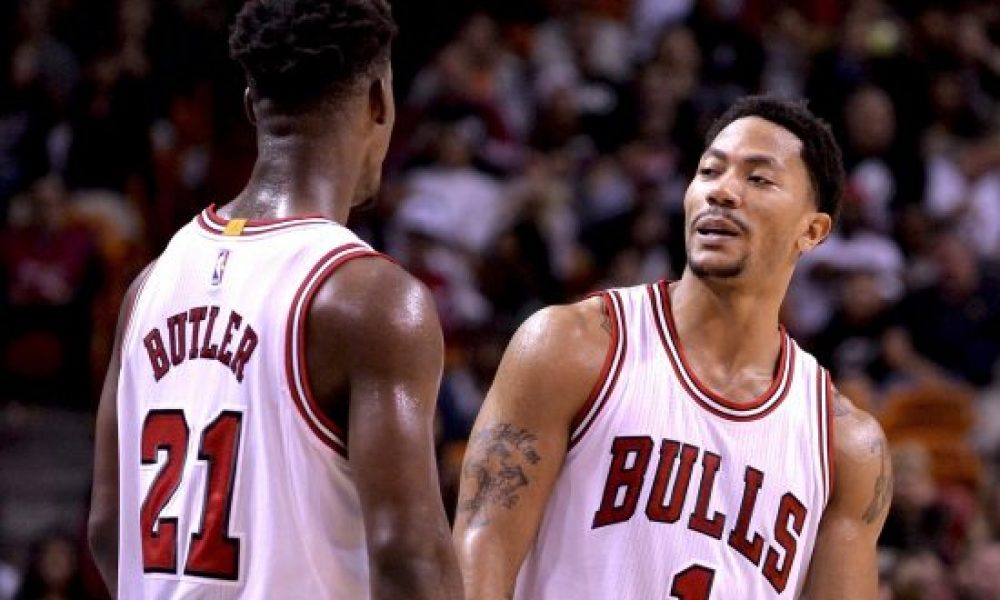 The Chicago Bulls have gone through some drastic changes this summer. The once-dominant NBA franchise has gone from a playoff contender in the Eastern Conference with a star-studded roster to a team that may struggle to make it to the postseason. Only Jimmy Butler is left standing in the Windy City with an uncertain future ahead.
After the Bulls had traded star point guard Derrick Rose to the New York Knicks, the finger was directly pointed at Butler for the move. Many believed Butler either gave the team an ultimatum or Rose no longer wanted to play alongside him. Things got even worse after Joakim Noah joined Rose in New York and Pau Gasol chose to sign with the San Antonio Spurs.
Although the Bulls will be sporting a much different roster next season, Butler claims he had no parts in the changes, and the moves had nothing to do with him, via ESPN:
"That has nothing to do with me. I don't move guys," Butler said before Thursday's Team USA practice at the United Center in Chicago. "It's like I always say: People are going to think what they want to think.
"That doesn't bother me. I know where I stand. I know who I am."
Despite whether Butler played a part in the changes made in Chicago or not, the Bulls are headed in another direction regardless. The team will build around Butler moving forward with some tough seasons ahead as they try to put the pieces back together in an attempt to become a force to be reckoned with in the East once again.
Along with Rose, Gasol, and Noah leaving town, the Bulls were able to make a few key additions during the offseason. The first move was replacing Rose with veteran Rajon Rondo. Although Rondo has been labeled a difficult player to deal with in the past, the journeyman brings championship experience and is coming off a solid season in which he proved he's still capable of being a force in the backcourt.
The Bulls were also able to convince superstar Dwyane Wade to come to Chicago. Wade has spent his entire career with the Miami Heat and elected to return home for what will likely be his final few years in the NBA. Although Wade and Rondo aren't players that thrive in a league driven by the three-point shot, they help soften the blow of losing three of the teams best players.