Daniel Jones to Challenge Manning for Giants Starting Spot
By Connor Lynch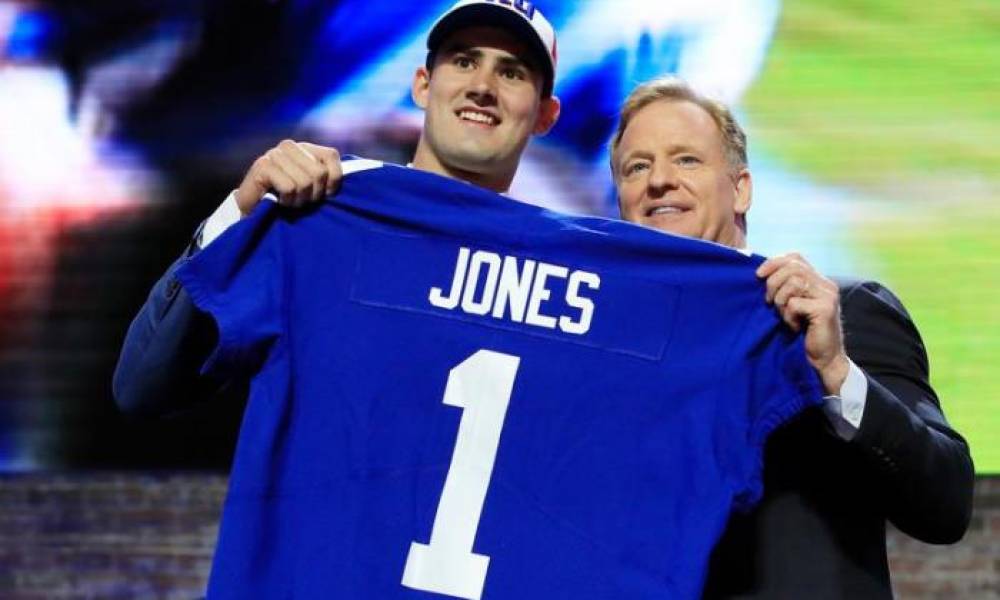 New York Giants rookie quarterback Daniel Jones will this season have the chance to take the starting spot away from Eli Manning. 
That's according to Giants coach Pat Shurmer. Shurmer said that veteran Eli Manning is still the Giants' starter. However, he said that Daniel Jones was "on track with the goal to be ready to play on Day 1".
Shurmer is setting the challenge for his players: nobody's place is automatic.
"The players who give our team the best chance to win play. Period. We've seen Eli do that for a very long time, so we'll see what happens as we go down the road," he said.
Want $250 to bet on NFL futures?
Unfortunately for Daniel Jones, Eli Manning is still a two-time Super Bowl champion. However, Giants wide receiver Golden Tate says that Jones doesn't have to surpass Manning right away.
"What I can I see, Eli Manning's got a lot of juice left," Tate said on Thursday. 
"He's still got some zip on his passes.
"I've been impressed. I think we have a really good problem. We've got a Hall of Fame-type of quarterback in my mind and we also drafted a guy, a young guy, so we don't need Daniel to come in and save the day. We just need Daniel to stay on pace, learn as much as he possibly can in a great environment and just take it day by day. 
"We don't need him to come in tomorrow and win a game, we just need him to stay on pace. I think that's good news in my mind."
At 22 years old, Jones has time to develop. The 38 year old Eli Manning is going to have to stop eventually. It looks as if the Giants are tentatively planning for the future.