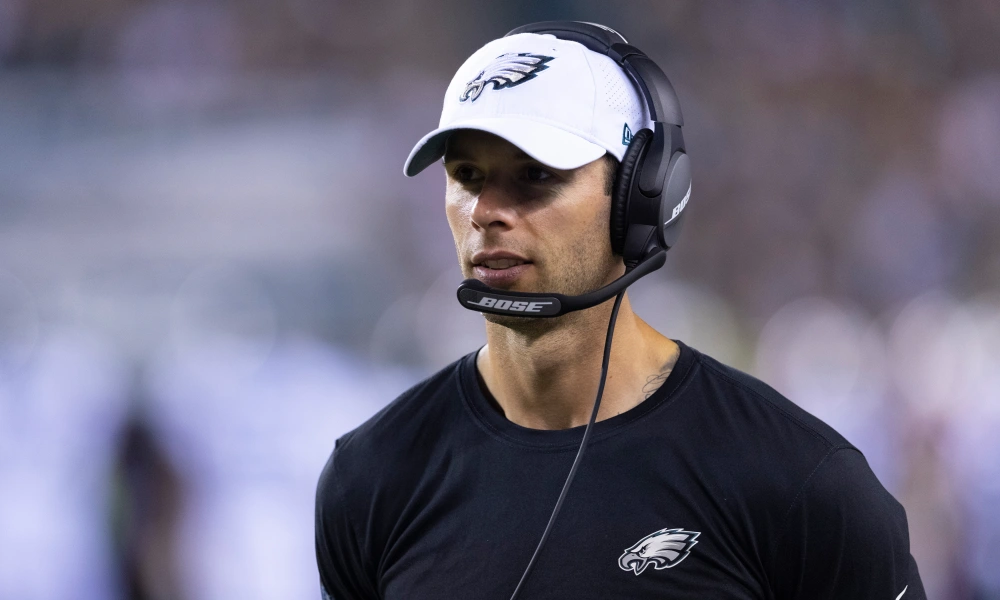 Eagles DC Jonathan Gannon Has His Eye On Kittle, Samuel
Stopping McCaffrey, Samuel, Ayiuk and Kittle will be vital in the NFC Championship Game, says Philadelphia Eagles DC Jonathan Gannon.
Jonathan Gannon signaled out these players specifically when assessing the threat of the San Francisco 49ers. 
He says that tackling will be the key to stopping Kyle Shanahan's explosive offense. The variety of Kittle, McCaffrey, Samuel and Ayiuk will provide a stern test for the Eagles.
Want $250 to bet on the 2022 NFL Playoffs?
"Schematically, they get the ball to guys in space, and then they have the guys that are touching the ball, those are part of their unique skill sets where they can break tackles, they can run away from people, they can make people miss in space, and I'm not just talking about one or two guys. It's really everybody that's touching the ball," Jonathan Gannon said.
"I think it's a good job by Kyle. He knows how to get guys in space, and then those guys have unique skill sets. That's why they're a really good offense is they've got playmakers. So, we're going to have do a good job with those guys because sometimes guys are going to have help, sometimes they won't depending on the call.
"That will be definitely a key to victory for us is tackling."
"They do a lot of different things with (Kittle)," Gannon noted. "It's not just like they align him here and these are the couple things that he does. He does a lot of different things for them, and they use him accordingly like they do with (Juszczyk), the fullback, 44, with McCaffrey, with Deebo, with Aiyuk. They use all those guys in different ways. It makes it hard to defend.
"We've just got to understand when he's aligned in different spots how they're using him and what we need to take away."