Fill In Your NCAAB Bracket Like a Sharp
By Chris Sharp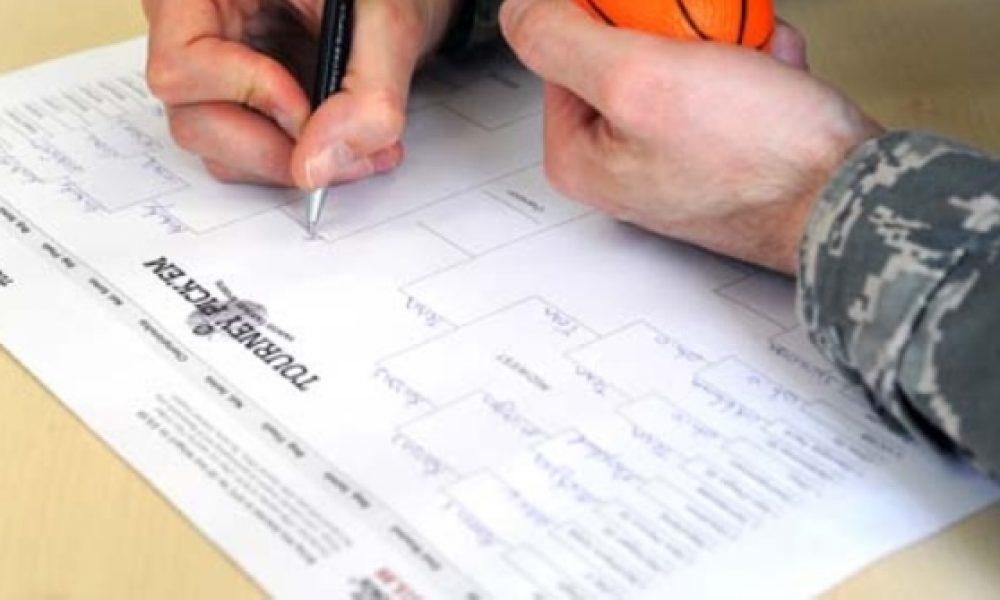 Fill out a winning bracket and win your pool!
It's that time again when the nation tunes in to men's college basketball for the better part of a month. The only thing more popular than rooting for Cinderellas is filling in a bracket for your company's annual pool. Do you want to give yourself the best chance of winning? Read on as I give you some tips on how to approach your bracket entry.
Not everyone has a background in game theory or handicaps all of the games preceding the tournament as I do, and you don't have to in order to win your pool. There are studies that suggest being too involved throughout the entire season is actually a detriment when creating a bracket. In order to win your pool you need to throw your prejudices and loyalties out the window and follow the specific steps outlined in this article which are backed and proven by statistics of past tournaments to give you an edge over your competition.
The first thing that you need to do is pick your winner. As backwards as it may seem, working this way gives you the best chance of winning. So, who should you pick to win it all? In 2015 there are eight teams who can actually go on a run and win it all in my opinion, namely:
Kentucky
Arizona
Villanova
Baylor
Utah
Duke
Wisconsin
Virginia
To give yourself the best shot at winning you should choose the third, fourth, fifth, or sixth favorite team as your national champion. You can determine which of these teams the third, fourth, fifth, and sixth favorite is by looking at the futures odds listed here.
The reason for not picking the number one or two seed in the tournament as your champion is the fact that no one team is so dominant that they have over a 60% chance of winning, and maybe more importantly, everyone in your pool will be picking them to win. If you choose the same team as the majority of the contestants in your pool, your winnings will most likely be split in the end. You want to be the contrarian of your pool's contestants. The vast majority of your opposition will pick the top seed as a champion and that means the pool winner will be determined by early round games, whereas if you pick a slightly less favored team you can win the money just by getting that one game correct.
Picking a champion (and a couple of other key games which we will go over later) opposite the masses, you are giving yourself a better chance of ending the contest with more points and taking home the top prize.
Once you have your national champion filled in from the first round to the final, you should go back to the first round and fill in the top seed to win their game in all four regions. In the history of the tournament, the one seed is 120 – 0 versus the sixteen seed and chances are that streak won't break this year.
Next, you should fill in the number two, three, and four seeds to win in each region. Many people will pick upsets here, but as I explained earlier you want your upsets to be later where they are worth more points and fewer people go against the grain.
For the fifth vs twelfth and sixth vs eleventh seed matchups, you should pick one or two twelve and one or two eleven seeds to pull an upset. In the history of the tournament 33% of twelve and 34% of eleven seeds win.
The ten vs seven and eight vs nine seed matchups are the closest matchups statistically and you should choose two nine and two ten seeds to win. Nine seeds have won 51.8% of first round matchups and ten seeds have won 40.2%.
When deciding which underdog to pick, I recommend going to kenpom.com, looking at defensive efficiency, rebounding, and free throw stats, and pick based on the most favorable matchup(s). Defense, rebounding, and free throw statistics are very important in this tournament and especially in these closely ranked battles. Defending, controlling the rebounds, and knocking down free throws is the formula for success.
I'll be personally be capping a few of these games on bettingsports.com as soon as the lines are released, covering the matchups for the bettor, and for the benefit of your bracket.
Now that your first round is filled out, fill in your second and third round based largely on seeds. You should again refer to kenpom.com defensive efficiency, rebound, and free throw stats to pick two to three upsets where you see fit.
Once you get to the fourth round, the elite eight, you can throw seeds out the window. Statistically speaking, everyone is on an even playing field from this point on. You will want to now pick your upsets when the number of games are few and, statistically speaking, your competitors will be sticking to the higher seeds so you can separate yourself from the pack.
Finally, fill in the rest of your bracket now focusing on the defensive efficiency of the remaining teams, noting that only one team with a defensive efficiency rating over 40 has ever made it to the final four.
You now have a complete bracket which is statistically favored over your competition. If your pool allows, you should enter multiple times with a different champion and some other small tweaks on each entry to maximize your probability of taking home the top prize.
Best of luck to all of you and be sure to keep an eye out on http://www.BettingSports.com for follow up articles from me which will include my bracket with a small write up, and a few separate pieces where I will break down some of the closer ranked first round match ups.
Related Articles:
Wagering on March Madness
Chris Sharp's 2015 NCAA Bracket
Upset Alert: Buffalo vs West Virginia
Upset Alert: Davidson vs Iowa
Chris Sharp is a professional sports handicapper and daily contributor to BettingSports.com. He can be found on Twitter @CSharp_Picks and on his web site IvyLeaguePicks.com.