Gregg Popovich: The Flag Is Only A Symbol
By Connor Lynch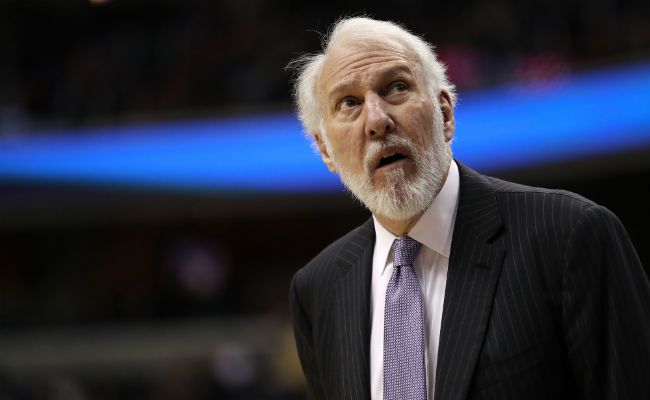 Outspoken San Antonio Spurs coach Gregg Popovich has given his two cents on the NFL's racial justice conundrum. 
Last week, several high-profile players asked Roger Goodell to condemn racism and stand with the Black Lives Matter movement on behalf of the league. Goodell obliged, but only opened a can of worms regarding his and the NFL's murky relationship with race and politics.
It's the Commissioner's mishandling of the Colin Kaepernick situation in 2016 coming back to bite him. Under pressure from President Trump, Goodell allowed the Take A Knee protests to descend into a farcical narrative about patriotism rather than justice. 
Saints quarterback Drew Brees made the situation worse when he recently repeated his stance of honoring the American flag at all costs.
Want $250 to bet on NFL futures?
Goodell has since encouraged players to 'peacefully protest', and approved a $250 million NFL package to fight racial injustice. However, as Gregg Popovich points out, it may be too little, too late for the NFL to save face. 
"A smart man is running the NFL and he didn't understand the difference between the flag and what makes the country great — all the people who fought to allow [Colin] Kaepernick to have the right to kneel for justice," Gregg Popovich said.
"The flag is irrelevant. It's just a symbol that people glom onto for political reasons …"
While you can't fault the NFL for putting its hands in its pockets and helping out, Popovich was quick to point out the hypocrisy in the gesture. Back in 2016, seven NFL owners donated $1 million to Trump's presidential campaign.
"It's just hypocritical," he said.
"It's incongruent. It doesn't make sense. People aren't blind. Do you go to your staff and your players and talk about injustices and democracy and how to protest? I don't get it. I think they put themselves in a position that's untenable."
Tensions are high at the moment, and they likely won't cool before the NFL season starts in September. Expect the Take a Knee movement to come back with a vengeance in the fall.