Jimmy Garoppolo To Continue As 49ers Starter For Foseeable
By Connor Lynch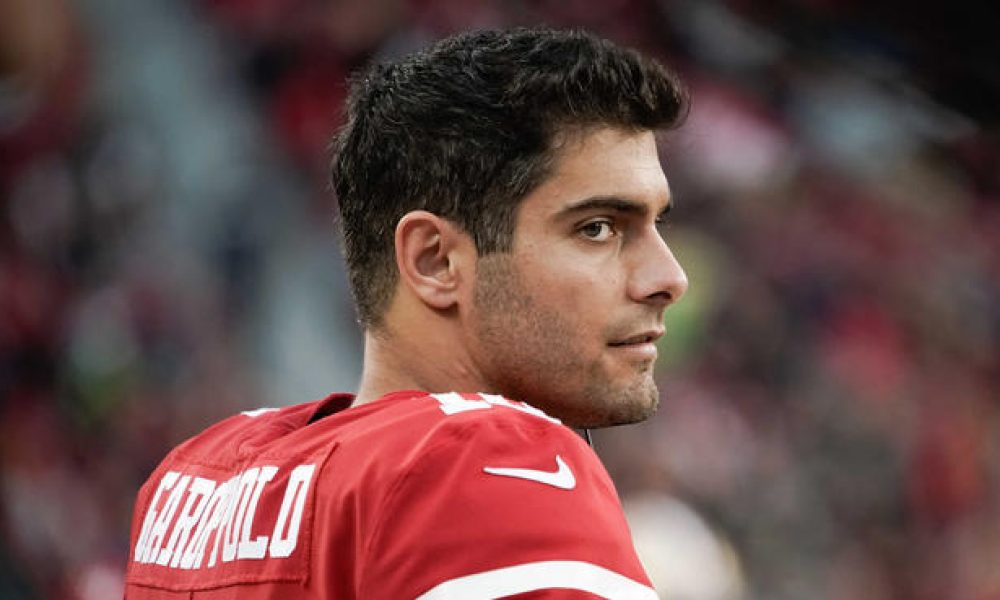 As the defeats pile up, the pressure mounts for rookie 49ers quarterback Trey Lance to take over from Jimmy Garoppolo.
Sunday's 30-18 loss to the Indianapolis Colts was San Francisco's 4th straight. Head coach Kyle Shanahan said it was probably Garoppolo's 'worst game'.
Jimmy Garoppolo went 16-of-27 for 181 yards and a touchdown, two interceptions and a lost fumble. However, Rookie Trey Lance is only due to return to practice on Wednesday. He is not considered fit to start the next game against the Bears, although he could feature.
Want $250 to bet on NFL Week 8?
"We didn't go into that game thinking that Jimmy was one bad game away from losing his job or anything like that," Shanahan said. "I definitely thought he could have played better but that was not a game where 'Hey, if Jimmy has one bad game, he's losing his job.' We know Trey is the future here and we're trying to do what's best for him and for our team."
"Trey hasn't practiced in two weeks since his knee injury, so when he does come back, which is hopefully Wednesday, he's probably going to be limited as it is," Shanahan said. 
"I haven't decided that yet, we'll have to see where he is. Odds are, when it comes to the game plan and stuff and what we're doing, you're not going to just start rotating quarterbacks because it's not an open competition right now."