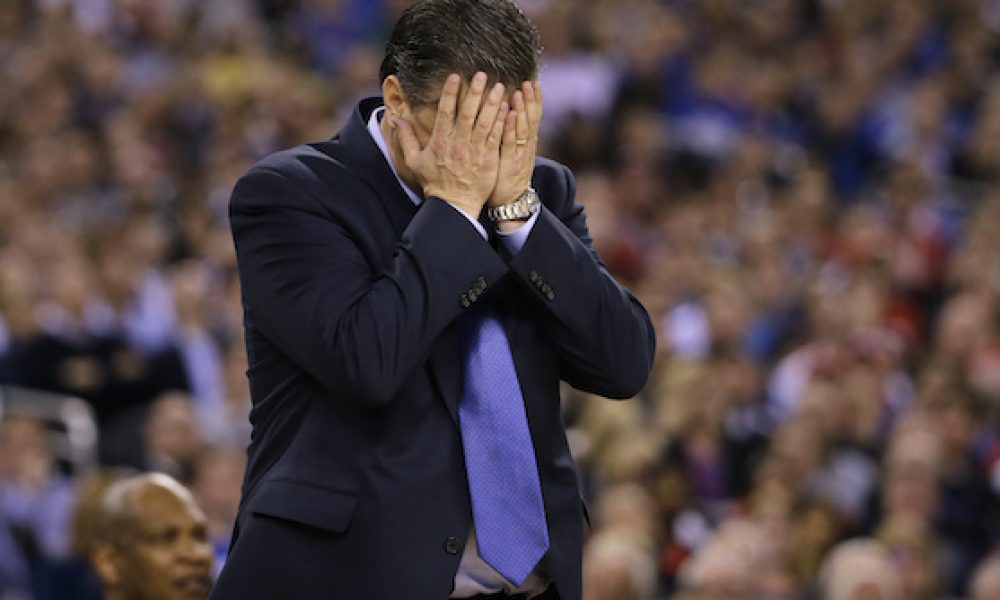 Kentucky Sucks Hard At Losing
Going into their Final Four matchup against Wisconsin, Kentucky was undefeated and the tournament's prohibitive favorite to win the championship—looking for redemption after losing to UConn in last year's championship game.
In fact, John Calipari's Wildcats have been so good for so long, that it's hard to remember the last time they weren't, at the very least, among the favorites heading into the tournament.
With that kind of longstanding and expected success, eventually fans are going to start taking things for granted. And it seems that may have happened among Kentucky fans, who did not handle their team's loss to the Badgers with anything resembling grace or dignity.
Perfection Lost: Kentucky's season ends at 38-1 http://t.co/t2c2JlXHaH pic.twitter.com/IC8nKFvnry

— Luke Winn (@lukewinn) April 5, 2015
They handled it with whatever is the exact opposite of grace and dignity—indecency and disproportionate rage?
In any event, within hours of the upset, it became clear that Kentucky fans simply were not equipped to deal with the events that transpired at Lucas Oil Stadium in Indianapolis. The devastation in the stands was just the beginning.
Kentucky lost. http://t.co/Xx96kF4p1I pic.twitter.com/FBw1XXLwbc

— SB Nation (@SBNation) April 5, 2015
.@CGasper: #Patriots fans who remember 2007 can empathize with #Kentucky basketball fans http://t.co/D10cIBlJ6s pic.twitter.com/Uo4vilmWvA

— The Boston Globe (@BostonGlobe) April 6, 2015
Here is a pic of @DarthHendrick and all of his friends after Kentucky lost last night pic.twitter.com/DVEu9YGSy4

— The Orange Cone (@TheOrangeCone) April 5, 2015
However, things didn't get really out of hand until Kentucky fans took to the streets.
So good. RT @MarkNagi: This should be the cover picture of the Kentucky basketball media guide next season. pic.twitter.com/vXqxYQm1HD

— Clay Travis (@ClayTravisBGID) April 5, 2015
Don't set that on fire, Kentucky fans! http://t.co/J7Zy6vIAcY (photo via AP) pic.twitter.com/LHjo2ACSdA

— USA TODAY Sports (@USATODAYsports) April 5, 2015
"We lost a basketball game. Let's set a bunch of stuff on fire!" — #Kentucky fans last night http://t.co/79B6tb0imm pic.twitter.com/GbMqQCNnMF

— Matt Lindner (@mattlindner) April 5, 2015
As frustration and fury played out on the streets, Wildcats' fans set fires, flipped over vehicles, and otherwise created chaos, which gripped Lexington for hours.
At least 31 people were arrested.
Let the debate over John Calipari's one-and-done strategy continue.
Assuming he doesn't flee to the NBA before next season, which, according to (always trustworthy) anonymous sources, Calipari is "desperate" to do. We'll see how that potential saga-in-the-making plays out this summer.