McVay Spoke to Marcus Peters About Outburst
By Connor Lynch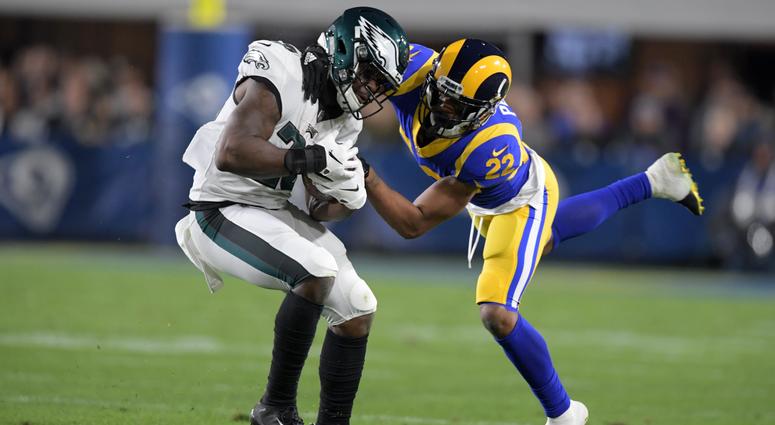 Los Angeles Rams coach Sean McVay told Marcus Peters that he's "got to be better" in emotionally charged situations.
The Rams cornerback was involved in a verbal confrontation with a fan during Sunday's game against the Philadelphia Eagles. McVay said he spoke to Marcus Peters following a viral video circulating on social media.
In the video, Marcus Peters is seen confronting a fan, aiming multiple profanities at the individual in the stands.
"I saw the video. I got a chance to talk to Marcus," McVay said during his Monday news conference.
"He knows that we've got to be better in those situations and can't allow whatever is going on in terms of that dialogue to affect our ability to be focused on what is going on during the game and on the field. … We had a good discussion and he knows that."
Want $250 to bet on the NFL?
Sign up here!
Currently, we do not know if the NFL will take further action on the incident. McVay didn't have any details on that, although he confirmed the issue was being handles internally by the Rams.
Any punishment may be severe, because this is not the first time Peters has lost is cool. While playing for the Kansas City Chiefs in 2017, he threw an official's flag into the stands.
In the same incident, he also got into an argument with a Chiefs assistant coach. He was fined just under $25,000 by the NFL for throwing the flag.
Following their conversation, McVay is confident that Peters can control himself in the future. McVay fits the model of an empathetic coach, so his talk about a great conversation seems plausible. However, considering that Peters has form for this, you can't help but wonder if he was disciplined internally.
"I wanted to have an understanding of what was going on because all I saw was that video — not exclusive to everything else that might have taken place," McVay said.
"He and I were able to have that. I like the way that he was able to communicate to me and I trust that when those situations, if they do arise in the future, that we'll handle it differently."