Carmelo Anthony claims Thunder players are 'angry' about poor start
By Ryan Ward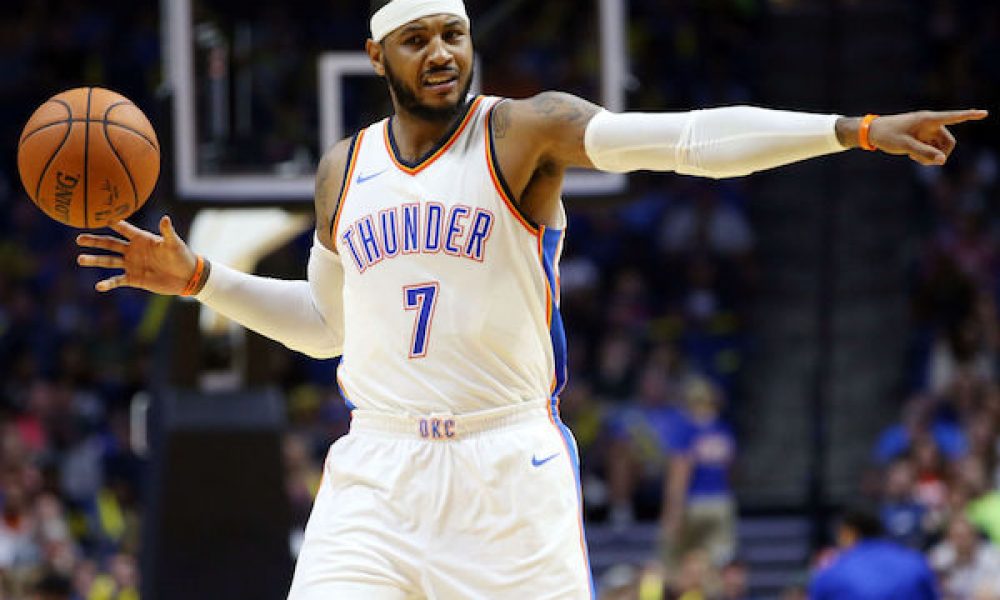 No team in the NBA had a better offseason than the Oklahoma City Thunder. They that lost Kevin Durant in free agency to the Golden State Warriors in 2016. However, it was able to pull two surprising blockbuster trades in the summer. They aqcuired superstars Carmelo Anthony and Paul George to join reigning NBA MVP, Russell Westbrook.
Those moves were thought to be game changers for the Thunder. It gave them the star power to compete with the Warriors, Cleveland Cavaliers, San Antonio Spurs, and Houston Rockets. Unfortunately, things have gone according to plan with the team struggling, and Anthony believes it isn't frustration they feeling but rather anger, via ESPN's Royce Young.
"Nobody is moping around, nobody is frustrated. I think guys are angry. I think guys are pissed," Anthony said. "That just comes from your competitive nature, wanting to win games — understanding what we have over here, the talent level that we have over here and not being able to put it together right now. So that's where the anger comes in at."
Playoffs
If the NBA playoffs were to start today, the Thunder would be out of the mix. The Oklahoma City Thunder is in 10th place in the West, and despite a recent win over the Warriors, they haven't looked good consistently.
The Thunder are currently sporting a losing record of 8-12 and have lost three straight games. The team seems to be struggling to find a balance for Anthony, Westbrook, and George, especially in the fourth quarter.
With a lot of basketball left to be played, the Thunder have to right the ship before the playoffs, but there's no guarantee this team will get back on track or if these three stars will figure out how to work together in Oklahoma City.