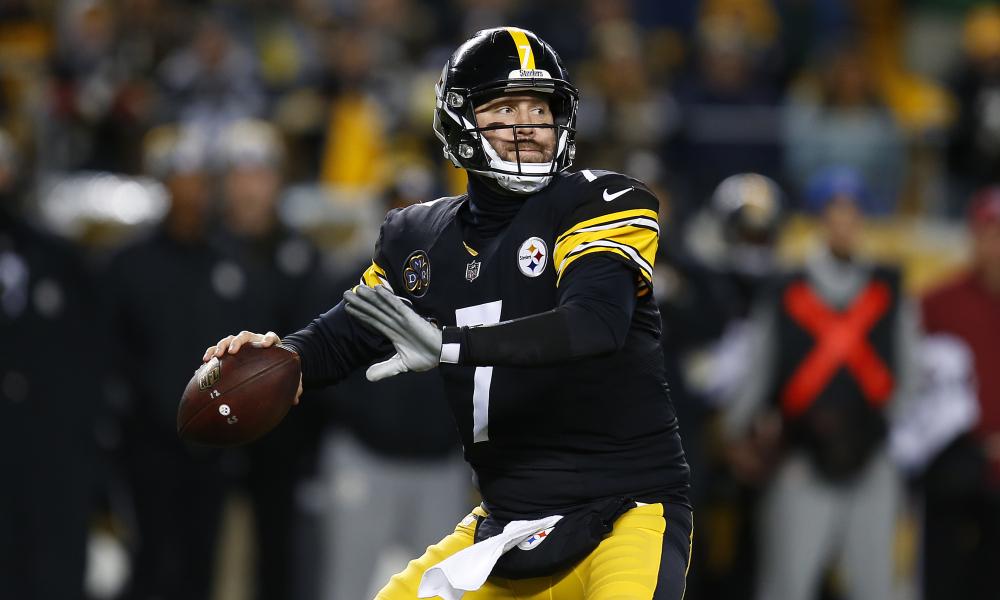 PITTSBURGH, PA - DECEMBER 10: Ben Roethlisberger #7 of the Pittsburgh Steelers drops back to pass in the first quarter during the game against the Baltimore Ravens at Heinz Field on December 10, 2017 in Pittsburgh, Pennsylvania. (Photo by Justin K. Aller/Getty Images)
Steelers legend Ben Roethlisberger admits he didn't want Kenny Pickett to succeed
Since Ben Roethlisberger retired from the NFL, he's maintained a strong tab on the Pittsburgh Steelers.
Unsurprisingly, much of Roethlisberger's focus laid on Kenny Pickett as the franchise's next cornerstone under center. During a recent interview with Pickett on his podcast, the future Hall of Famer revealed that he initially didn't want the Pittsburgh product to succeed.
Want $250 to bet on NBA futures?
"I'll be completely honest, I'll be super transparent here, and I'm gonna get blasted," Roethlisberger said via ESPN. "I probably shouldn't say this, but who cares at this point. I wouldn't say that I wanted Kenny to necessarily fail, but when someone comes to replace you, I still feel like I had it, I hope he doesn't come ball out. Because then it's like, Ben who?"
Much of Roethlisberger's stance clearly came from not wanting to see his replacement find success. He wanted to relish in the shine that he was the key component to the franchise's sustained success.
However, after witnessing Pickett start to get his footing, Roethlisberger changed his perspective.
"As you started playing, I found myself rooting more and more for you," Roethlisberger said. "I wanted you to succeed, I wanted you to win games, I wanted you to go in the playoffs. I feel bad that I felt that early on, but I'm glad I transitioned to loving and rooting for you."
Roethlisberger's change of heart shows his desire to see the Steelers move forward and succeed. Pickett has quickly become a fan favorite behind his play and holds the future of the franchise in his hands.