Sacramento Kings Potential Dark Horses, say Warriors
By Connor Lynch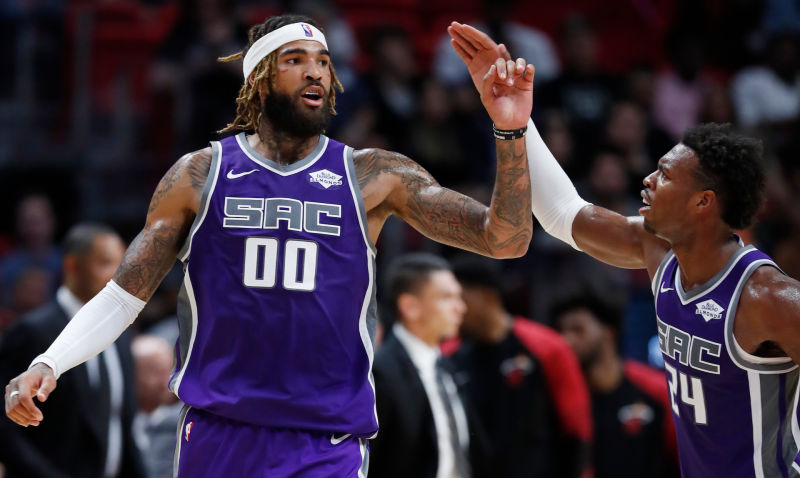 The Sacramento Kings could be the team to watch for the next few years, according to Warriors players and staff.
The Sacramento Kings lost by just two points to the Golden State Warriors on Thursday night. It was the fourth time the Warriors beat the Sacramento Kings this season.
In the process, the Kings have earned the respect of the star-studded Warriors. The likes of Kevin Durant and Draymond Green even see a rivalry between the two teams in the offing.
Over the four games, the Warriors have won with a margin of 12 points. According to ESPN, that's tied for the third-smallest margin of victory over four games in NBA history.
Want $250 to bet on the NBA?
Sign up now!
"That's the fourth game that we deserved to lose against this team," Kevin Durant said.
"But [we] just figure it out at the end of the games. … Sometimes you're not going to win it with the team game and the way we always play. Sometimes you're just going to have to play streetball, you know what I'm saying? I think tonight, throughout spurts of the game, both teams did that."
"They're a good team," said Draymond Green.
"They're scrappy, young, probably the fastest team in the history of the NBA. They never quit, got a lot of young talent and they're putting it all together."
Even Warriors coach Steve Kerr got in on the act, and was visibly excited about the Kings. He even named them as a contender for the playoffs.
"I love their team and love what they are doing," Steve Kerr said.
"I said it before the game, every time we play them it's high energy and it's beautiful basketball. They are tough to guard. They put a lot of pressure on you, so who knows what is going to happen down the stretch? A lot of really good teams battling for the playoffs, but they are really good."