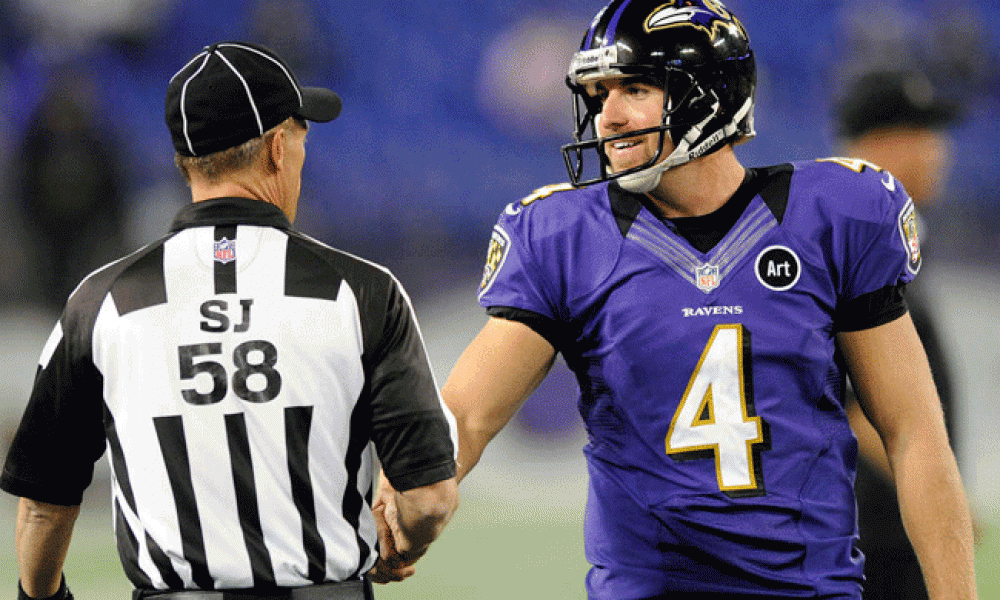 After three weeks of controversy, Baltimore kicker Sam Koch, along with a stadium full of fans, welcomes back the real officials.
Sam Koch To Retire After 16 Years As Ravens Punter
Baltimore Ravens punter Sam Koch, the longest serving player in franchise history, announced his retirement from the NFL on Thursday.
Sam Koch played in a team record 256 games for the Ravens, 27 more than any other player. The only active player who has more time with a team is Aaron Rodgers of Green Bay.
Sam Koch (39) is credited with revolutionizing punting. The 16-year veteran holds nearly every punting record for the Ravens: total punts (1,168), gross average (45.3) and punts inside the 20-yard line (450).
Baltimore's 11 longest punts have all come from a right-legged Koch kick.
Want $250 to bet on the NFL?
Koch said he knew his time may be up when Baltimore's GM and head coach told him they might draft in his position.
"I remember saying to them: This is a business decision and you guys have to do what you think is best for the Ravens," Koch said. "So, they made that decision, and at that point, I think I knew my time was over and it's OK. I'm very excited for my next chapter in life and all I can do is be very appreciative of the way they handled it."
Koch will remain as a special teams consultant in Baltimore this season. As well as that, he'll mentor Penn State punter Jordan Stout, who was drafted this year.
"Sam changed punting," Ravens coach John Harbaugh said. "A lot of people don't know it, but all the punters know it and all the punting coaches know it. When you change something forever, to me that's a revolutionary-type thing. That's the mark of greatness."