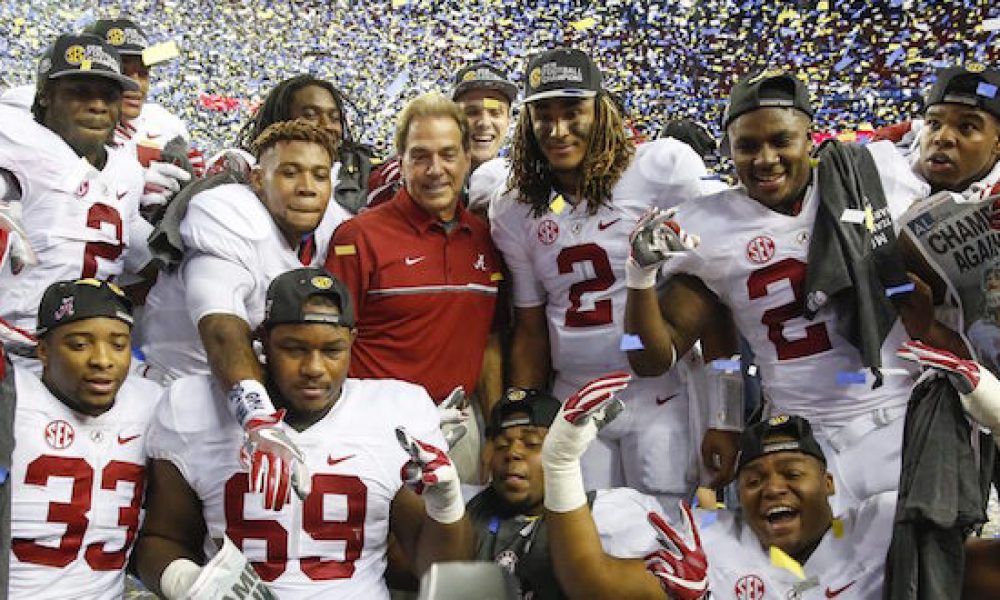 Alabama relishing underdog role against Georgia
Crimson Tide gets its wish in title game: More 'rat poison'
The Alabama Crimson Tide, the mightiest of underdogs, are set to face off with an all-too-familiar SEC foe, the Georgia Bulldogs, in the College Football Playoff National Championship on Jan. 10 at Lucas Oil Stadium in Indianapolis. 
This year's title game features the only two teams to be ranked no. 1 all season, with Georgia holding the top spot since early Oct. until the Tide rolled over them in the SEC Championship.
And, to the delight of Alabama head coach Nick Saban, the Dawgs have settled in as a three-point favorite in their latest rematch with the Tide. Alabama isn't accustomed to the scrappy underdog role, but they've been lapping up all the "really positive rat poison" that comes along with the status. 
Monday's clash comes on the heels of Alabama's (41-24) victory in the conference title game, their second-straight 17-point win over Georgia in consecutive seasons. A lopsided victory that came as a surprise to Georgia fans and bettors alike, since the undefeated Bulldogs rolled into Atlanta as six-point favorites. It was the first time since 2015 that Alabama enjoyed underdog status—incidentally, another successful outing against Georgia.
SO WHY GEORGIA?
Want $250?
The prisoner of the moment assessment is that Georgia handled their business against Michigan more decisively than Alabama handled Cincinnati. That kind of transitive reasoning doesn't leave the door open for much nuance. However, there's no question which team looked more dominant in the semis. 
There's also the absence of star wide receiver John Metchie III, the Tide's leading pass-catcher. He went down with an ACL injury in the SEC Championship. Even though there's a conveyor belt of top-tier talent in Tuscaloosa, and an established next man up mentality, Metchie's absence alone is significant enough to move the line in this game.
Then there's that vaunted Bulldogs defense–ranked No. 2 overall behind only Wisconsin. Georgia led the nation in opponent points per game at just 9.8 points allowed, compared to Alabama at 19.6. We've all heard the Bear Bryant adage, "defense wins championships" a million times, and there's no question Georgia's defense has fueled their success.
But is that adage even true anymore? Not according to Bryant's contemporary Nick Saban.
Saban has said all the right things about his former assistant Kirby Smart, who was on his staff for nearly a decade before Georgia hired him in 2015. He's downplayed their supposed rivalry and has been effusive in his public commentary. "I've had the utmost respect for Kirby and his team in those games, and I certainly have it in this game," Saban said this week of his three prior wins over Smart. 
Something he's too polite to mention: Saban is 25-1 against his former assistants.
But this isn't about Nick Saban versus Kirby Smart. It's not even about Alabama versus Georgia. It's about an elite offense versus an elite defense and what that means in the game today.
A defensive mind by talent and trade, no one knows more about how the game has evolved than the man whose face stands alone on the Mount Rushmore of college football coaches in the modern era. Though Saban has offered nothing but praise for Georgia this week, back in Oct. 2020, he drilled down to what could be seen as a fundamental flaw in their very ethos.
"It used to be that good defense beats good offense. Good defense doesn't beat good offense anymore," Saban told ESPN last year. "[Georgia] has as good a defense as we do an offense, and we scored 41 points on them [in a 41-24 Alabama win]. That's not the way it used to be. It used to be if you had a good defense, other people weren't going to score. You were always going to be in the game.
Saban continued, "I'm telling you. It ain't that way anymore."
Undoubtedly, his theory will be tested on Monday because the circumstances remain the same–a top-five offense battling a top-five defense. If you think defense wins championships, well then put your money on Kirby Smart and Georgia. 
If you trust the football mind of Nick Saban, then consider the scrappy underdogs.