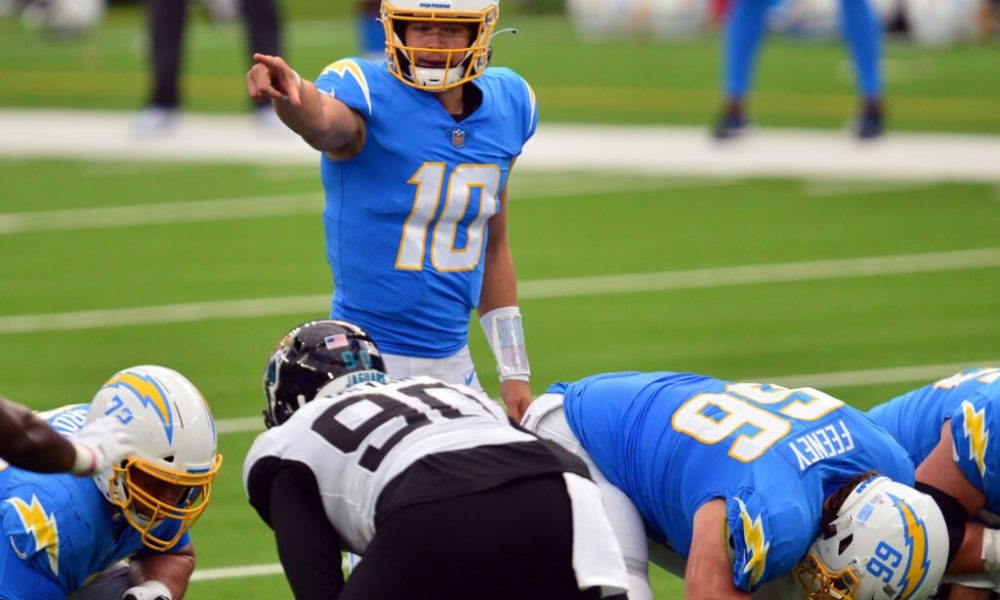 Banged Up Justin Herbert Can't Save Chargers Against Jaguars
Justin Herbert says his desire to not 'quit on the team' fuelled the decision to play the entire Jacksonville game.
The L.A Chargers quarterback battled manfully with a fractured rib cartilage, but to no avail. Justin Herbert found himself on the losing side, 38-10.
Head coach Brandon Staley says it was important to finish the game as a team. However, that wasn't the point of the questions regarding his decision to risk Justin Herbert.
Want $250 to bet on Monday Night Football?
"He wanted to be out there with his teammates," Staley said. "He felt good, and he wanted to finish the game."
Reporters then asked Staley whether or not he considered telling his quarterback to sit.
"For sure," Staley said. "Believe me, throughout the entire game, that's the first thought throughout the game and at the end of the game. Trust me there's no one thinking about it more than I am.
"That was just the decision that we made," Staley said, "and it was about us finishing that game as a team, and it was important that we did it."
"Felt like we were getting the ball out quick, so I didn't want to quit on the team," Herbert said.
"I had a feeling that I was going to go in, and was just going to see how it felt, and before warmups it felt good. So, I was going to roll with it," Herbert said. "I trust the medical staff. I trust the training staff, and they're not going to put me in harms way. I felt like it was safe, they felt like it was safe, and so I was going to go out there and play.
"It's what the team needs, and sometimes you have to put your goals behind the team, and I think that's what's most important," Herbert said. "I felt like I was safe out there, and I didn't want to quit on the team."