Bevo tries to murder Uga ahead of Sugar Bowl brawl
By Amber Lee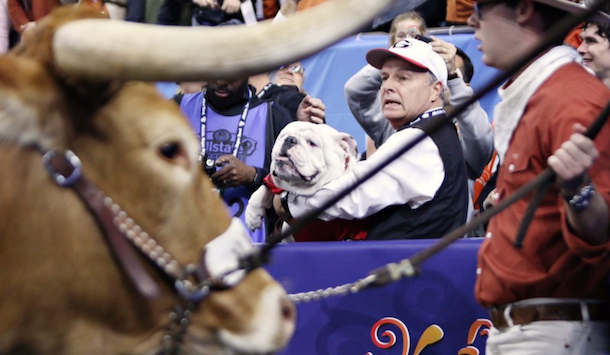 Ahead of Monday night's Sugar Bowl matchup between Texas and Georgia, Longhorns mascot Bevo caused quite the stir and nearly gored Uga.
The scene unfolded on the field as Bevo was brought out for the mascot introduction with Uga, the Bulldog.
As Bevo approached Uga, the huge steer lowered his head, horns down, and scared the heck out of everyone in attendance.
Bevo just came after Uga X and the Sugar Bowl has officially begun. pic.twitter.com/aUFvRkbEwb

— Mike Reiter (@Mike_Reiter) January 2, 2019
Greetings from the Superdome, where things got a little tense when Bevo and UGA met before tonight's #SugarBowl pic.twitter.com/xb7sfNy2dz

— Sam Khan Jr. (@skhanjr) January 2, 2019
omg Bevo just tried to go after Uga 😳

🎥 @aasdannypic.twitter.com/sBEYYHiTw1

— SB Nation (@SBNation) January 2, 2019
Thankfully it appears nobody was hurt, but it was certainly a very close call for a certain portly dawg.
Sugar Bowl Betting