Cartoonish Curmudgeon Mike Florio Called J.J. Watt a Kardashian
By Amber Lee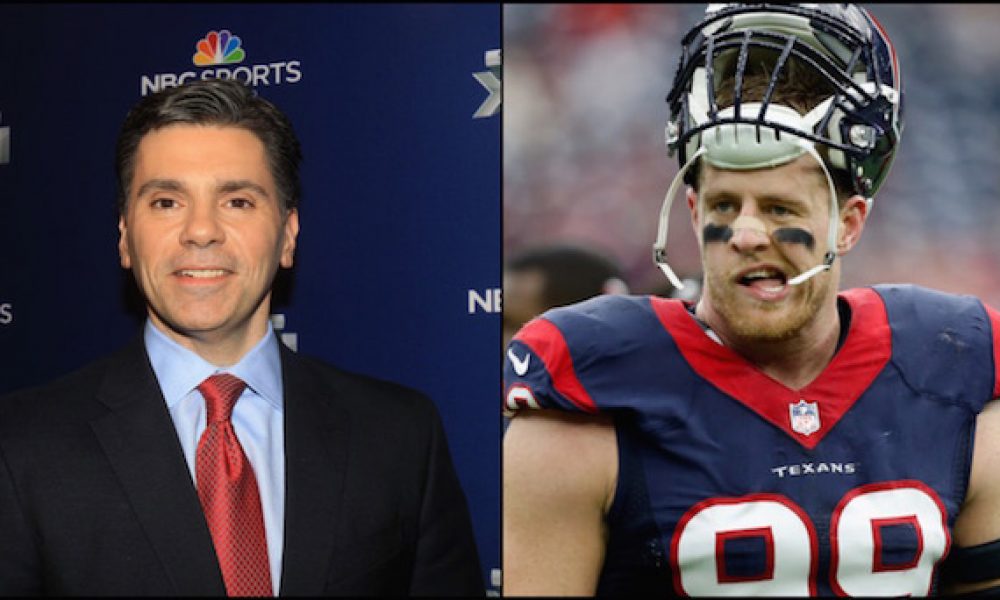 On Tuesday night Houston Texans defensive end J.J. Watt tweeted a seemingly innocuous photo of himself wearing a USMNT soccer jersey. It was timely, as the US was playing Argentina in the Copa America, and entirely inoffensive—mundane, even.
That is, unless of course, you're ProFootballTalk's Mike Florio. Apparently everything about Watt's very existence rubs Florio the wrong way, which is the only possible explanation for his less than proportional response on Twitter.
Kit is a big snug, but ready if called upon. #USAvARG pic.twitter.com/FTvx6LJ2fW

— JJ Watt (@JJWatt) June 22, 2016
@ProFootballTalk you do know how Twitter works, right? If you don't want to see it, stay off my page. Take your saltiness elsewhere.

— JJ Watt (@JJWatt) June 22, 2016
I do stay off your page. I follow your team's page. They retweeted it. That's how Twitter works, right? https://t.co/4arzpy1LzB

— ProFootballTalk (@ProFootballTalk) June 22, 2016
Take your false humility elsewhere.

— ProFootballTalk (@ProFootballTalk) June 22, 2016
Florio actually pinned that last one to the top of his timeline.
Clearly not content to leave well enough alone, Florio continued his Festivus-style airing of the grievances Wednesday morning on The Dan Patrick Show. The man has a big ass bee in his bonnet about Watt, and he did not hold back:
"There's more than just what J.J. Watt did last night. He has a habit of doing things to attract attention to himself and then getting frustrated when the things he does to clearly attract attention to himself … attract attention to himself."

"I have no problem with someone being a Kardashian but he wants to, in the same breath, say 'why are you looking at me? Here I am wearing a shirt that is 10-sizes too small with autographs all over it, why is anyone reacting to this even though I have sent this picture out to 2 million people who follow me on Twitter and that's been retweeted and discussed, please don't talk about me.'"

"That's a disconnect that I can't reconcile and he has talked about it in the past and he doesn't get it. He's closer to 20 than 50 and I think he doesn't have the benefit of perspective. He doesn't understand that you can't seek attention and act like you don't want attention and expect everyone to say that's perfectly fine."
Ridiculous as the catalyst for Florio's diatribe was, he's not entirely wrong about Watt's attention seeking. A Kardashian though? That's a bridge too far, sir.