Dak Prescott: We Know We're For Real
By Connor Lynch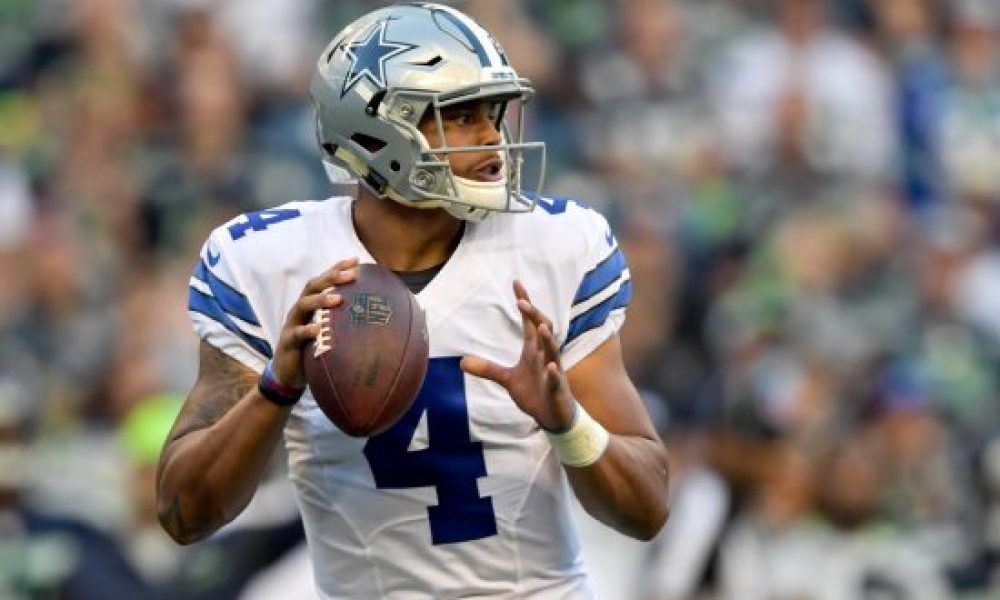 Dallas Cowboys quarterback Dak Prescott was in a triumphant mood following Sunday's 35-29 win over the New England Patriots.
Dallas is now 5 – 1 on the season and holds a three-game lead in the NFC East heading into their bye week. Last season, it took until Week 15 for them to win their 5th game.
This season, they have only lost against the defending Super Bowl champions, Tampa Bay, in the final minute. The only team with a better record than the Cowboys is the Arizona Cardinals.
"We know we're for real," Dak Prescott said, "and we believe we're for real."
Want $250 to bet on Monday Night Football?
Dak Prescott had a standout performance against New England, completing 36 of 51 passes and three touchdowns. His 445 passing yards are the most ever allowed by a Bill Belichick Patriots team.
Only Kurt Warner (401), Peyton Manning (400) and Warren Moon (399) have come close.
"Honestly, I didn't know I threw for that much until [Ezekiel Elliott] told me in the locker room," Prescott said. 
"It's not about me, it's about the whole team. It's about the practice we put into it, it's about the way we go about our practice, the way we built our team. I'm just a product, I guess, of the stats, but at the same time, it's the unselfishness. It starts up front with the communication in how we're protecting and those guys getting open. They make my job easy."
"Can't say enough about Dak Prescott, just the way that ball was being distributed and the calmness and the confidence he had in the pocket," Cowboys coach Mike McCarthy said. "I thought out pass protection was excellent, but we knew this was going to be a dogfight. We knew this was going to be a huge challenge coming in here, and I really do think these kinds of wins during the course of the season could definitely pay forward for us."