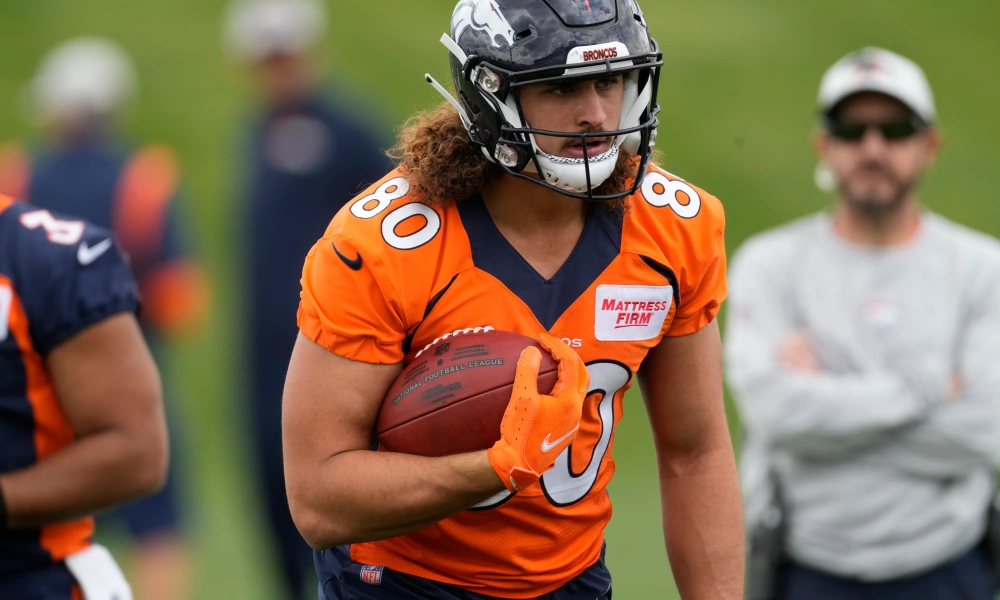 Greg Dulcich Tipped For Big Role By Sean Payton
Greg Dulcich has a 'unique skill set' that allows him to contribute to the running game and the passing game.
That's according to new head coach Sean Payton, who likes what he sees from the Denver Broncos tight end. 
Greg Dulcich was hampered by injury during his rookie season, but showed encouraging flashes of potential nonetheless. He finished the season with 33 receptions for 411 yards and two touchdowns.
Payton compared Greg Dulcich to players like Jason Witten, Jimmy Graham and Alvin Kamara.
Want $250 to bet on NFL futures?
"I've been lucky enough to — I've had [former New Orleans Saints tight end Jeremy] Shockey, [former Dallas Cowboys TE Jason] Witten, [former Saints TE] Jimmy Graham, and I'm probably leaving out a few guys," Payton said. 
"I'm not saying this young player [will be just like them], but he's got traits that are exciting and today was one of those days where you begin to have a vision.
"The 'joker' player for us is not a receiver," Payton explained. "It's either a running back or a tight end with exceptional ball skills and then you can work matchups. We've had that at the running back [position]. [Former Saints RB] Reggie Bush was the 'Joker,' [former Saints RB] Darren Sproles and [Saints RB] Alvin Kamara. Those were all unique players, not just in the running game, but they had passing game skill sets that allowed you to do multiple things, and I think Greg does, too."
"He's got unique skill set, and he's got traits in the passing game," Payton said. "We use the term 'joker' where we can get matchups. The trick sometimes is trying to predict what you're going to get defensively, if you're either going to get a nickel package or a base package. But man, he can run, he's got good ball skills and he had one of his better practices today. Then you begin to build on that. 
"Right now, there's an install that's taking place and the players, they go play those spots. When you get into the season, you really get more specific to who's running what route. I think his menu is going to be lengthy in the passing game and there's enough stuff that we can do in the run game."