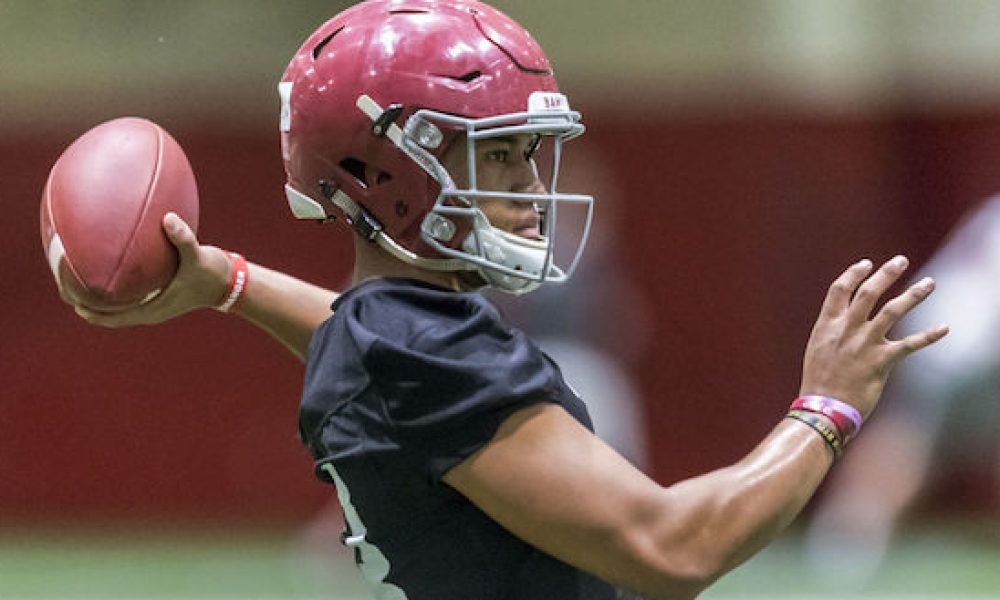 Heisman Trophy Chase Between Tagovailoa and Murray
A pair of undefeated teams lost for the first time during Week 8 in college football which shuffled the top of the 2018 Heisman Trophy futures board.
The loss by Ohio State of 49-20 to Purdue is the most notable. Buckeyes quarterback Dwayne Haskins had the second best odds prior to the loss at +300 but sportsbooks dropped Haskins  to +1200.
The top spot continued to be held by Alabama quarterback Tua Tagovailoa whose grip became even tighter following the Crimson Tide's victory on Saturday. Tua's odds moved from -150 to a current -275.
Want $250 to bet on Heisman Trophy futures?
Sign up here!
Replacing Haskins in second place is Oklahoma's Kyler Murray now at +350, followed by Haskins at +1200, Michigan's Shea Patterson at the same +1200 and Penn State's Trace McSorley at +1400 rounding out the top five best odds to win college football's most coveted individual award.
Tagovailoa led the Crimson Tide to a 58-21 victory over Tennessee and once again he did not play a single down during the fourth quarter. The Alabama signal caller played the entire first half and just the opening drive of the second and still threw for four touchdowns.
This season Tagovailoa has 2,066 yards passing, 25 touchdowns and zero, yes zero, interceptions. Tagovailoa ranks 12th in the nation in passing yardage and tied for third in touchdown passes.
What is most impressive of all is Tagovailoa has not yet played a single down during the fourth quarter the entire season to date and therefore has missed what is equal to two games. Alabama has a bye this week and must play the following week against LSU in Death Valley.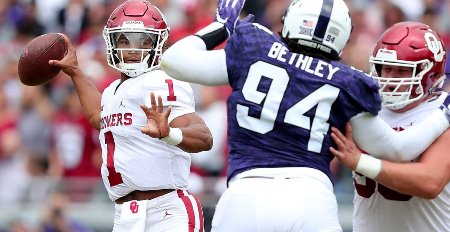 Oklahoma's Murray came back strong from his team's first loss during Week 6 to Texas when his odds fell to +700 from +350, with a masterful game against TCU resulting in the Sooners 52-27 victory. Murray passed for 213 yards and four touchdowns.
Murray this season has 1,977 yards passing, 25 touchdowns and three interceptions. The fleet-footed Murray has also rushed for 428 yards and five touchdowns.
Haskins, Patterson and McSorley are a distant third, fourth and fifth respectively and unless Alabama is defeated by LSU or Auburn, you can expect Tagovailoa to put even more distance between he and those three. Murray is the only player who has an outside chance of keeping pace with the Bama QB.