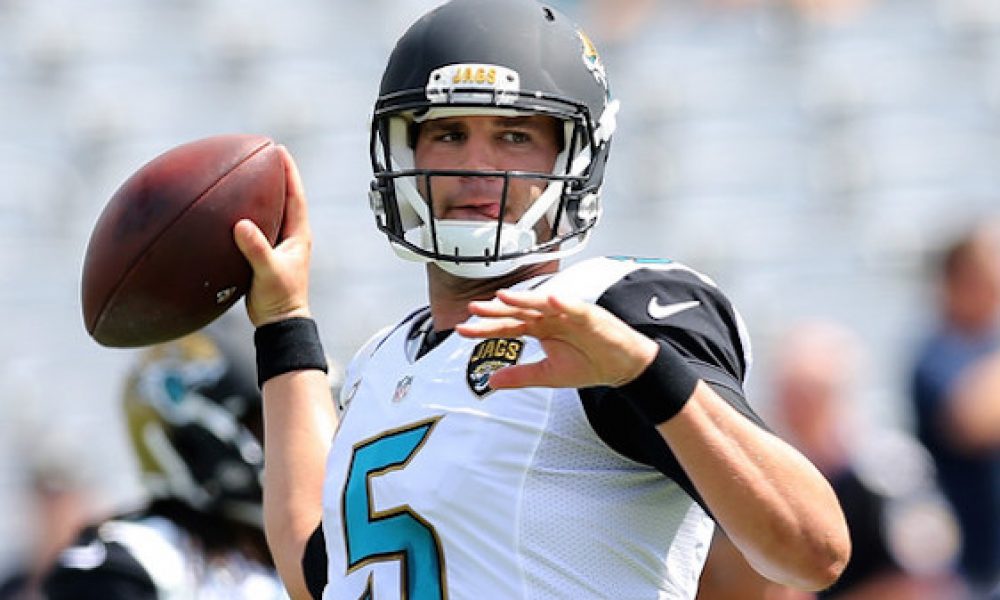 Jaguars bench Blake Bortles, won't commit to future starter
The Jacksonville Jaguars benched Blake Bortles during a 20-7 loss to the Houston Texans in Week 7. They replaced him with Cody Kessler.
Marrone not committing to either Bortles or Kessler as the starter. "Every job is open" #ASJax pic.twitter.com/WI9NbMkrXU

— Stuart Webber (@StuartASJax) October 21, 2018
Whether Blake Bortles remains on the bench after this week is yet to be determined. Head coach Doug Marrone left open the possibility when asked about it after the game.
Want $250 to bet on the NFL?
Sign up here!
With Bortles at the helm, the Jaguars fell behind 20-0. Kessler couldn't do enough to bring the team back for a win, but he only turned the ball over once. Bortles did it twice, losing two fumbles.
Bortles completed just six of 12 passes for 61 yards against the Texans before he was benched and the Jaguars offense was shut out in the first half for a third consecutive week. He threw four interceptions in a 30-14 loss to the Kansas City Chiefs in Week 5 and only managed to throw for 149 yards in a 40-7 loss to the Dallas Cowboys in Week 6.
Kessler was better than Bortles in the remainder of the game, leading the Jaguars to their only points of the day, a 5-yard touchdown pass to T.J. Yeldon. He finished with 21 completions on 30 attempts for 156 yards, but the game was sealed when a pass deflected off Yeldon's hands and was intercepted.
Read: NFL Week 7 – Notes and Observations
Bortles was again dealing with the struggles of his supporting cast against the Texans. Keelan Cole had two early drops and the offensive line didn't keep Bortles clean. But he wasn't doing the Jaguars offense any favors either and his pair of fumbles were costly.
Bortles was given an extension in the offseason that keeps him under contract until 2021 and would make it costly to part ways with the quarterback in the offseason.
Cutting him would save the Jaguars just $4.5 million in 2019 and saddle the team with $16.5 million in dead money.
NFL Betting