Jalen Hurts: Rent Is Due Every Day
By Connor Lynch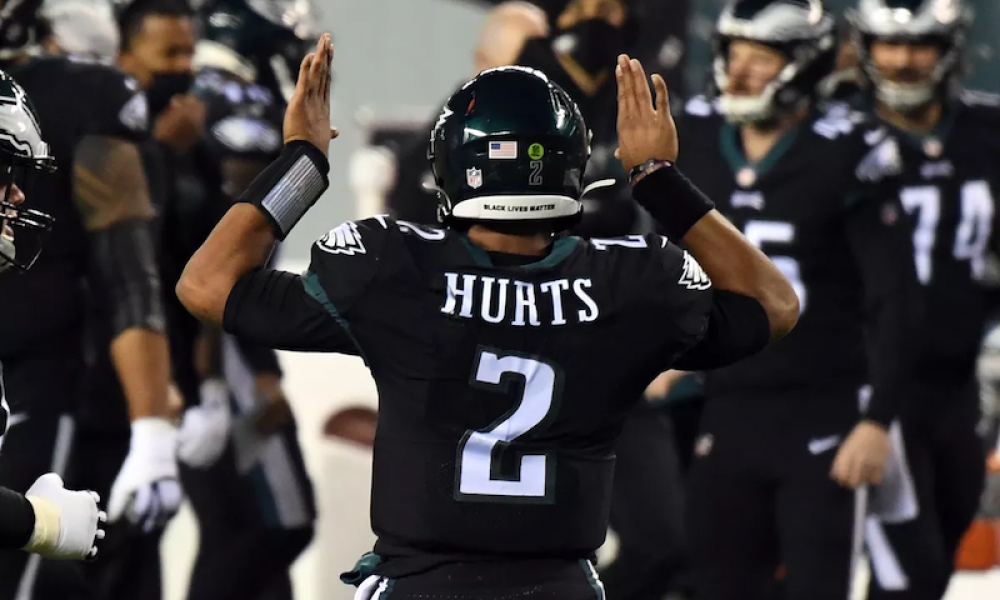 The Philadelphia Eagles are entering a new era with head coach Nike Sirianni and quarterback Jalen Hurts.
The Doug Pederson/Carson Wentz era ended with suggestions of tanking and the eventual dropping and trade of Carson Wentz.
The jury is still out on Sirianni, but second year quarterback Jalen Hurts is sold on his new head coach.
As well as that, he's not taking his starting position over backup Joe Flacco for granted. 
Want $250 to bet on NFL futures?
"I value everything that coach has brought here," Hurts said of Sirianni. 
"I remember back in my days at Alabama, Coach Saban hearing him talk about discipline, commitment, effort, toughness and pride. Having these core values that he's trying to instill in the team and, in the end, it all worked out for the team. And you see coach Nick Sirianni coming in preaching connection, preaching accountability and competition, fundamentals and football IQ, preaching all these things.
"I know in all of those different avenues, all of those different values and principles that we're trying to instill here in Philly, no one is above that and everybody got to go to work. So, for me, rent is due every day, it's always been that way for me, always been a 'get better' mentality every day, grow every day, be a better leader every day, be a better quarterback every day and when that rent's due, I don't plan on missing no payments. It's work."
"I say Joe has been great, Joe has been great," Hurts said. 
"The knowledge he brings to the quarterback room, it's very beneficial for me. He has a great mind with those things and, obviously, he has a lot of great experience so I look forward to working with him and having him there. As far as everything else, I know I'm not above anything with a competition or football IQ, all the values we have I'm not above none of that. So, that's kind of where that is."