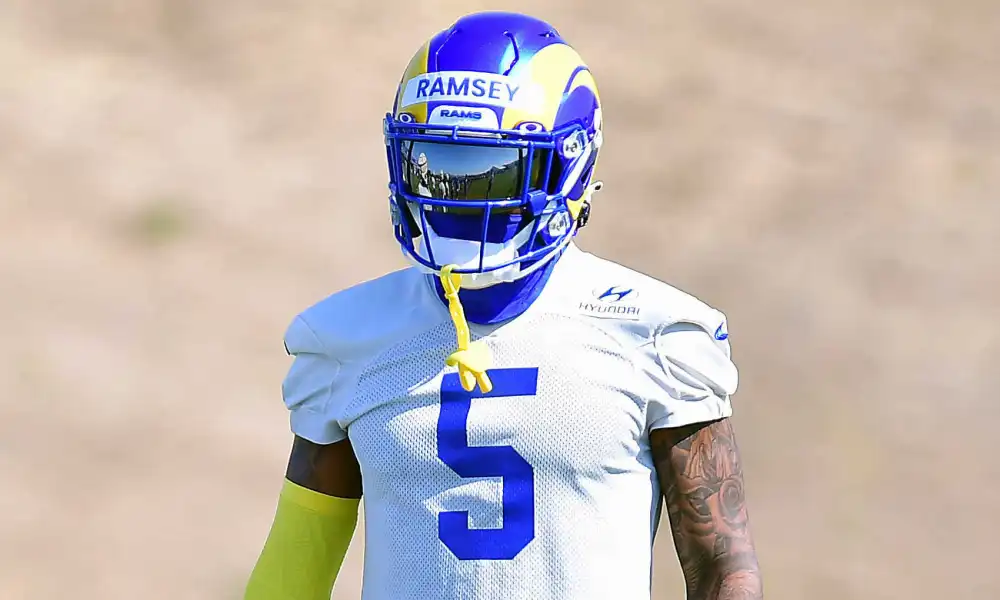 Jalen Ramsey Has 'Big Picture Understanding' Of Rams Defense
Sean McVay couldn't contain his excitement over cornerback Jalen Ramsey shadowing the Los Angeles Rams defensive coordinator on Saturday.
Jalen Ramsey is still recovering from offseason shoulder surgery. He was cleared by the team doctors on Saturday.
McVay decided to bring Jalen Ramsey along to practice rather than place him on PUP, and he's been keeping himself busy.
The head coach says Ramsey's ability to see the game from multiple positions will help the defense.
Want $250 to bet on NFL futures?
Ramsey has been carrying the play script around with him while he bugs DC Raheem Morris.
"It's kind of the only way I can enjoy it," Ramsey said. "Because I want to be out there. You know what I mean?"
He's watching out for "the certain techniques that I feel like they should've been using or that could have helped them."
"It's huge because Jalen is going to be a huge part of what we do defensively," McVay said.
"He's got great ownership on what we're doing. When you're able to play multiple positions, you've got to have a big-picture understanding of what we're trying to get done defensively. Then the experience that he has, there's a lot of instances where, 'OK, how do you want to be able to play this? What are some of the combinations and route concepts that you're going to see based on what we're in coverage-wise? Where are your play opportunities within the framework of those coverages?'
"And his ability to communicate that, that energy is contagious and you can really see a lot of that swag that he has is kind of rubbing off on really our DBs as a whole, defense as a whole, especially some of those younger guys."