Murray and Henry Forming Dynamic Duo in Tennessee
By Jonathon Natsis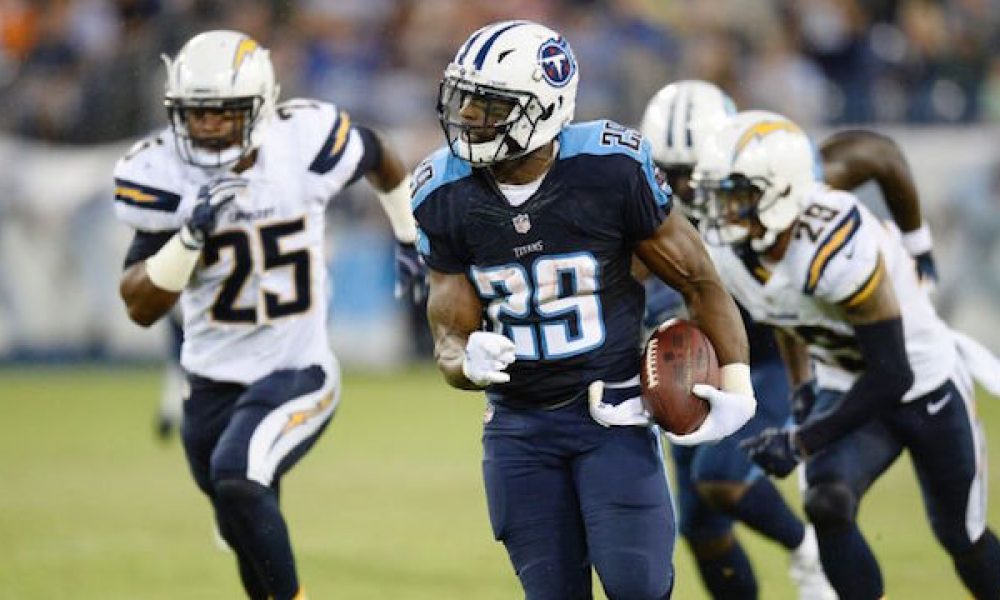 Having dwelled in the AFC South cellar for too long, the Tennessee Titans are finally starting to look like a team with some upside on offense. Last year, the team drafted a potential franchise quarterback in Marcus Mariota, but not much else. In their first preseason game as Titans, new acquisitions DeMarco Murray and Derrick Henry impressed as Tennessee looks to muster more weapons this year.
After a lacklustre season with the Eagles in which he was grossly misused, Murray ran for almost 100 yards on only 6 carries Saturday night against the Chargers. For perspective, it took Murray until week six to eclipse that mark last year; a milestone he would not reach again in midnight green.
Murray ran with beautiful vision and downhill power against a San Diego defense that struggled to snuff him out in the backfield. The highlight of the night came on a 71-yard touchdown run that saw Murray weave between his leading blockers with ease, before deftly shedding a last-ditch diving tackle down the sideline and finishing the play.
Second-round pick Derrick Henry picked up right where Murray left off. The big, burly Henry – still wearing his college #2 by virtue of the more relaxed numbering rules in preseason – displayed an enviable combination of speed and strength as he bustled for 74 yards and a touchdown of his own on only 10 carries. He boasts incredible cutting ability for a big man, best illustrated on his 11-yard shunt into the endzone.
It's only been one game, but Murray and Henry look on their way to becoming the "Batman and Robin" tandem on offense that so many teams strive for out of a single position group.
But it isn't just the running backs that are opening eyes in Tennessee. Mariota now has more weapons through the air, including newbie Harry Douglas, productive Kendall Wright, veteran Andre Johnson and criminally underrated TE Delanie Walker. Add to that a bolstered offensive line and the Titans are fast becoming an offense to watch in 2016.