NFL Rumors: Broncos Trying To Trade QB Mark Sanchez
By Ryan Ward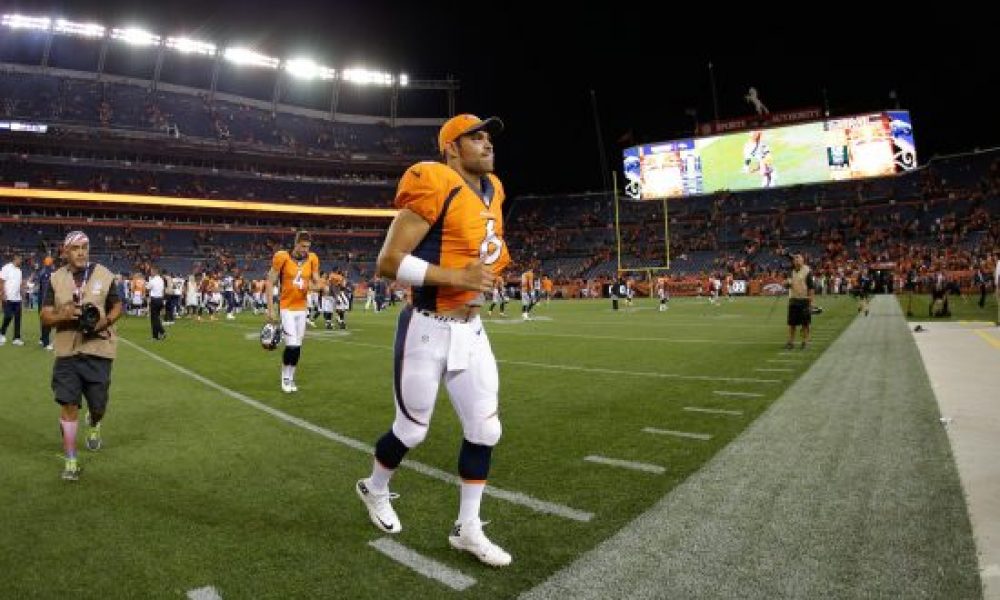 After weeks of speculation, the Denver Broncos have a new starting quarterback. Head coach Gary Kubiak has decided to go with Trevor Siemian to be Peyton Manning's successor in the Mile High City leaving veteran Mark Sanchez in a difficult and fairly uncomfortable position.
The consensus going into this quarterback battle between three gunslingers was Sanchez would likely come out on top. Rookie Paxton Lynch is viewed as the future of the position in Denver while Siemian could be a stopgap. Now that Sanchez has been beaten out by Siemian, the Broncos brass appear ready to part ways by putting him on the trading block, according to Josh Alper of Pro Football Talk:
PFT has learned, via a league source, that the Broncos are trying to trade the 2009 first-round pick now that they have settled on Siemian as their starter. Rookie Paxton Lynch is the other quarterback on the depth chart and is seen as the ultimate choice to start after Denver selected him in the first round this year.
Sanchez has struggled to remain a starter in the NFL ever since his days with the New York Jets. Although Sanchez was able to help lead the Jets to three consecutive AFC Championship games, the former USC star wasn't the main reason for their success and always had difficulty keeping his interceptions down.
With the Broncos being his third team following stints with the Jets and Philadelphia Eagles, the future remains uncertain for the once-promising quarterback. Denver may have a trouble trading the veteran quarterback as it has become apparent he is nothing more than a backup with a household name.
One team that might show interest in Sanchez is the Dallas Cowboys. Tony Romo went down during the team's last preseason game and broken bone in his back shelving the veteran for the next 6-10 weeks. Rookie Dak Prescott has proven to be a viable option, but the team needs some insurance and bringing Sanchez might be something the team explores.