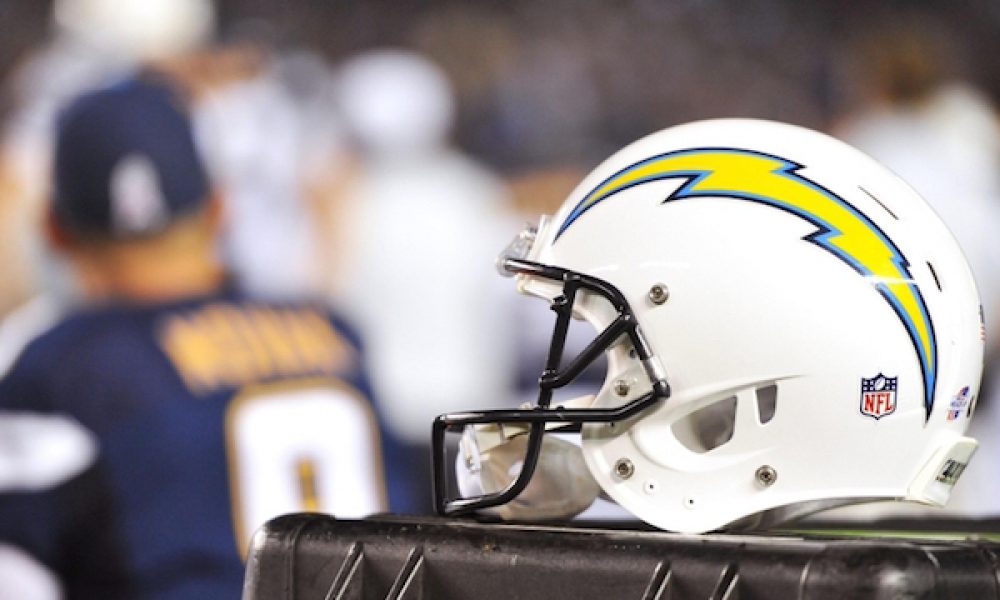 Aug 13, 2015; San Diego, CA, USA; A helmet from a San Diego Chargers player in a preseason NFL football game against the Dallas Cowboys at Qualcomm Stadium. The Chargers won 17-7. Mandatory Credit: Orlando Ramirez-USA TODAY Sports
NFL Week 17 notes: Last game for Philip Rivers?
On Sunday, take a good look at Philip Rivers. It might be the final time you see him on a football field.
With the Los Angeles Chargers taking on the Kansas City Chiefs at Arrowhead Stadium, Rivers is set for his 2019 finale. Depending on how the months ahead shake out, it could be his personal finale as well. Rivers is 38 years old and suffering through a bad campaign both on a team and individual level. With it highly unlikely Rivers and the Chargers remain an item after this season, does he start anew elsewhere or retire to his family?
If this is the end for Rivers, what a confusing legacy. The Chargers only reached a single AFC title game with him over his 14 years as a starter. He reached eight Pro Bowls, but didn't win a single division title this decade. His numbers are good enough for the Hall of Fame in any era, but was his impact? So many questions.
If you care about Rivers, or simply watching great players before they go out, maybe catch a few series of the game in Kansas City.
The Redskins, Giants try to spoil
Last week, the Washington Redskins and New York Giants played one of the more exciting games of the year, with New York winning 41-35 in overtime. Now, both teams will take part in divisional showdowns to end their respective seasons.
New York is hosting the Philadelphia Eagles while the Redskins are on the road to face the Dallas Cowboys. If the Eagles beat the Giants, they will wrap up the NFC East with a 9-7 mark and host either the San Francisco 49ers or Seattle Seahawks in the Wild Card round. However, should New York win its final game and the Cowboys take down the Redskins, it will be Dallas going to the playoffs and hosting one of the two aforementioned teams from the NFC West.
Do the Raiders get a miracle?
For the Oakland Raiders to earn the sixth and final AFC playoff seed, four things need to happen. The Houston Texans need to beat the Tennessee Titans. The Pittsburgh Steelers must lose to the Baltimore Ravens (who are sitting many of their starters). The Indianapolis Colts have to win against the Jacksonville Jaguars. And, finally, the Raiders have to beat the Denver Broncos at Mile High. It's a long shot considering all the variables, but in their final year in Oakland, do the Raiders draw the miracle?