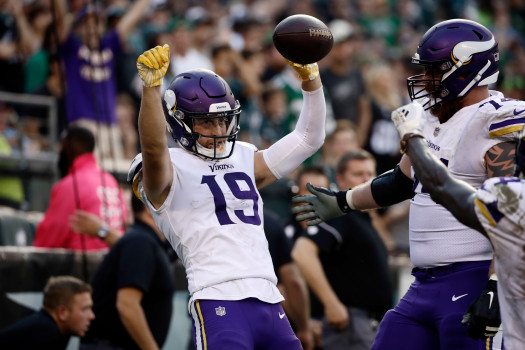 AP Photo/Matt Rourke
Veteran wide receiver Adam Thielen signs with Panthers
It didn't take long for three-time Pro Bowl wide receiver Adam Thielen to find his next NFL home.
Thielen has quickly signed a three-year deal to join the Carolina Panthers. During a recent interview on the Pat McAfee Show, the 32-year-old voiced that he chose the Panthers over the Dallas Cowboys and Denver Broncos because he believed the franchise present him the best chance to win a Super Bowl.
"Honestly, I wasn't planning on going to the Panthers. I went on a visit there just to see what they were about. I wanted to go somewhere I felt had an opportunity to win a Super Bowl. When I went there, I sat down with coach, I sat down with the GM, and sat down with all the coaching staff and I felt like Carolina was the place to do that," Thielen said via ESPN.

"I feel there is a real chance to win a Super Bowl. That gets me so excited."
Although that isn't the overwhelming outside perspective concerning the Panthers' future outlook, Thielen appears to be quite confident. He will have a chance to quickly thrust himself into the spot as the top receiving option after DJ Moore's departure as part of the trade that landed Carolina this year's first overall pick.
Want $250 to bet on NBA futures?
The Panthers will need Adam Thielen to be a foundational block in the offensive game plan, especially for the incoming rookie quarterback. New head coach Frank Reich will certainly look to feature him prominently in the game plan in 2023 and likely beyond.