Nick Saban Warns Draft Prospects of Losing Out
By Connor Lynch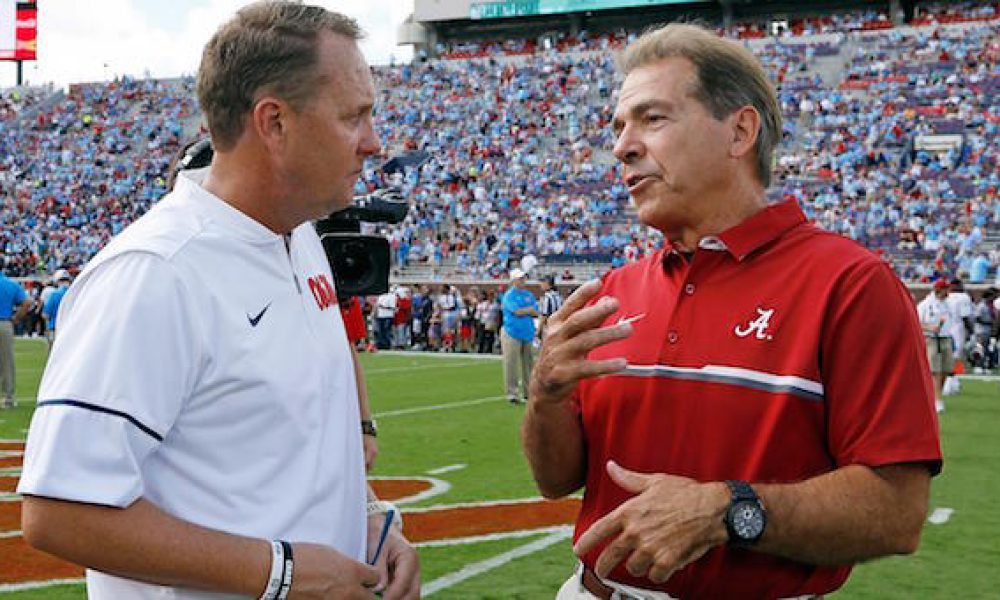 Alabama Crimson Tide coach Nick Saban had some words of warning for NFL prospects ahead of the upcoming draft.
Speaking on Saturday, Nick Saban lamented the fact that young players want to leave education as soon as possible. According to him, joining the NFL as soon as possible isn't always the wisest move.
In fact, Nick Saban thinks that players ultimately end up losing out by wanting too much too soon.
"Now, we have guys that have no draft grades, seventh-round grades, free agent grades, fifth-round grades, that are going out of the draft. And the person that loses in that is the player," Saban said.
Want $250 to bet on NFL futures?
"If you're a third-round draft pick, and we had one here last year — I'm not going to say any names — goes and starts for his team, so he's making third-round money, which is not that great. He'd be the first guy taken at his position this year, probably, and make $15 to 18 million more.
"So, the agent makes out, the club makes out, and now they've got a guy that's going to play for that kind of money for three more years, all right? And everybody out there's saying, 'Well, get to your next contract.' Well, there's obviously 50 percent of these guys [that are] never getting to a next contract. And that doesn't mean all the rest of them got to one, either."
Alabama knows a thing or two about sending players to the draft. Since 2007, it has had more players drafted in the first round than anyone else, with 26. Ohio State has had the next most, with 18.
"I've actually changed how I talk to recruits now," Saban said.
"I tell every recruit that I talk to the reason that you're going to college is to prepare yourself for the day you can't play football. I think we have a lot of people way back in high school, all right, that look at college as a conduit to get to the NFL. And look, I am 100 percent NFL. I'm 100 percent guys having careers, all right? But people have to be smart about the business decisions they make relative to the NFL because it is all business."